PhotoAlbums+ iPhone App Review
Concept (5 out of 5)
PhotoAlbums+ is a concept that we absolutely like, possibly because it is a feature which should have been included in the iPhone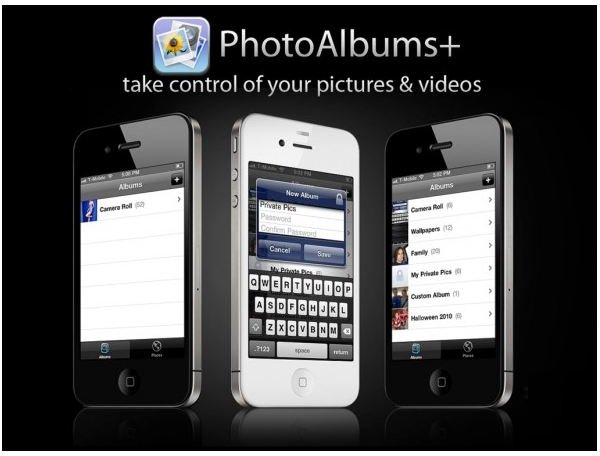 software (iOS) since day one. This does not mean that PhotoAlbums+ is a bad concept, it means that it is a wonderful and creative concept which aims to make your iPhone usage more enjoyable.
PhotoAlbums+ adds the ability to create new albums directly on your iPhone and to move existing media between the camera roll and your newly created albums. What is even cooler, is the ability to password protect specific albums. This means you can keep unwanted eyes away from your special photos or videos which might be saved on your phone, while allowing non-personal content to still be accessed in other albums.
This is a very original idea, a very functional idea and deserves credible mention. It is also something that will likely appear in the latest software releases of the iPhone, simply because it makes sense.
Functionality & Features (5 out of 5)
PhotoAlbums+ is a very impressive app for the iPhone, in the sense that it does not come with its own icon, clunky menus or options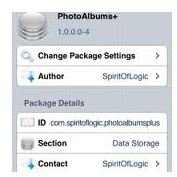 dialogs. It simply integrates itself directly into the existing Photos app that comes on the iPhone. Adding a sleek and natural "+" to the top of the Photos app enables the user to access the new features of PhotoAlbums+.
This means that you will not need to learn a new app, figure out where options are or dislike the poor menu layout. You will simply navigate to the same old, familiar Photos app and have access to all the new features. Using PhotoAlbums+ you have the option to create a complete new album and name it anything you would like. You can then populate it with pictures from existing albums or your camera roll. You can continue to store pictures in the new album later, categorizing your photos as you would like.
Personal photos can be stored in their own albums and password protected using PhotoAlbums+. These photos will not viewable to just anyone, and the album will not open unless the correct password is entered when prompted. The user is prompted to enter the password each time the album is accessed. This might not be practical for everyday photos, but this can sure do wonders for those photos you wouldn't want your mother, father, roommate or coworkers to see, and yes, we all have them stored on our iPhone.
Conclusion (5 out of 5)
We almost gave PhotoAlbums+ a less than excellent rating because of the fact that it is not available in the App Store. However, we decided not to hold this against the app because most certainly Apple would not have approved this app due to the guidelines they have regarding App Store apps. You can read more about App Store Guidelines in our article titled How To Avoid Getting Your App Banned.
This means that to obtain PhotoAlbums+ you will need to have a jailbroken iPhone (find out more about Jailbreaking). From your jailbroken iPhone, navigate to Cydia and search for PhotoAlbums+. The app costs a fair $2.99 and installs quickly and easily, the new features are instantly accessible after installation.