My Name is E Review iPhone App Review
My Name is E iPhone Contact App Review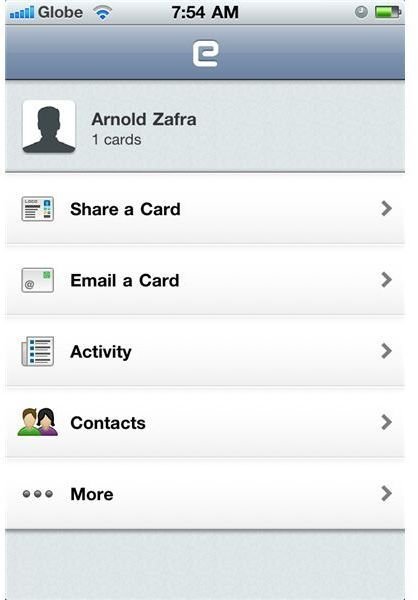 The My Name is E iPhone contact app has one simple objective - to eliminate the old practice of exchanging printed business cards with people you meet during conferences, business meetings and other activities. The idea is that instead of exchanging those printed cards, the app lets you do this through iPhone to iPhone transfer via Wi-Fi or 3G. The app also lets you transfer virtual business cards from your iPhone to other smartphones such as BlackBerry and Nokia handsets. As long as the other party is registered on the My Name is E server, the app will let you share business cards.
Since we've mentioned the E cloud server, this is actually an essential part of the app. You must register for an account to be able to manage business cards you've shared with other people and update your business cards as well.
An interesting and useful feature of the app is the E cloud service. By registering to the site, you can keep track of the cards you've shared and who you've shared those cards with. The E server saves the location of where a business card was shared or sent so you'll know the context of how you met your acquiantance. In addition, the app also notifies you of any changes when your contact updates their information.
The app also lets you quickly add notes to newly received cards as well as view social networking information directly from the app. It also allows you to add new cards instantly to your iPhone contacts, and add company logos to cards to give them a professional appeal.
That all sounds good and pretty nifty right? But wait, what if your contact doesn't have an iPhone? Should you go back to the old way of sharing printed business cards then? Actually no, because the app also lets you send your business cards via email. The recipient gets the same format as when sharing virtual business cards via the app.
On the technical side, this iPhone contact app has a very clean and simple interface. This is good for the simple reason that it helps the app work fast, load fast and fulfil its purpose - of sharing business cards quickly.
My Name is E iPhone Contact App Review - Our Verdict
For all intents and purposes, I couldn't help but commend this app. I remember the old days of sending business cards via Bluetooth on analog mobile phones. In essence, this app is similar, although in a more advanced way. Others may say that the need to register for an account on the E server is a deal breaker, well partly yes. But if you don't mind doing this extra step, the bargain is more than worth the trouble. I particularly like the fact that you can keep track of the business cards you've shared and who you've shared them with. With the old way of exchanging printed cards, you had no way of doing this, and for that, we highly recommend this iPhone contact app.
Here's the download link for My Name is E.