Viper VoIP iPhone App Review
Viber iPhone App - Free VoIP Calls on your iPhone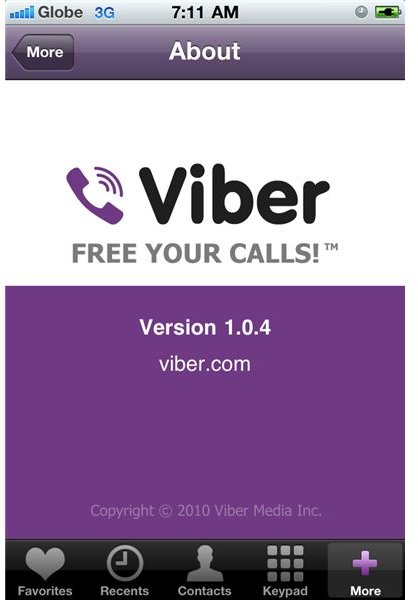 Viber is a new iPhone app that lets you make free calls both domestically and internationally. Now, you might say that you have a free unlimited calling feature on your mobile data plan, so why bother using Viber if your objective is to make free calls? Well, actually those free calls you make via your usual mobile carrier's phone plan consume the allotted calling privileges. With Viber, you are not charged with anything. No airtime cost for calling friends. Why is that so? - Because with Viber you are actually using VoIP. Meaning internet calls not unlike your regular phone calls that pass through your carrier's network. Though this will require a data plan or Wi-Fi. Got the difference? Now, it's time to learn about the features of the Viber app.
Viber iPhone App - Features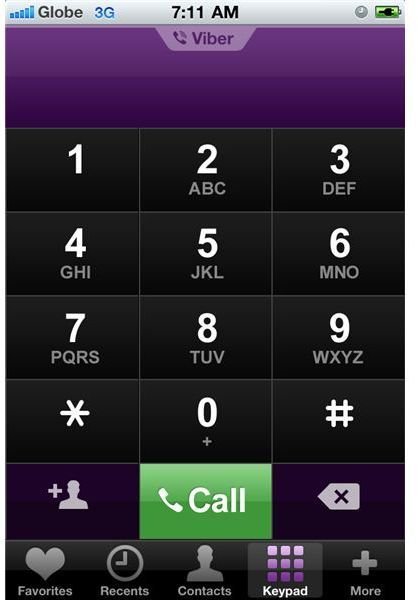 Discussing the Viber app's features is like giving out the reasons why you should get this app running on your iPhone. First, it has no hidden costs. As long as the person you are calling has also installed the app, both of you can use it to talk as much as you want. Both of your iPhones must be connected to the Internet via 3G or Wi-Fi.
What's good about the Viber app is that you can make phone calls with your friends internationally. It's a VoIP calling service, so the only time you'll get charged is when you connect via 3G. But if done through Wi-Fi, your calls are totally free.
Another nice feature of the app is that it doesn't require username, passwords or registration. It uses your iPhone's number to establish your identity in the Viber network. Likewise, the app doesn't require you to create a separate Viber buddy list. Your iPhone's address book is used by the app. The app automatically highlights friends in your address book that use Viber.
The app also lets you call friends on your iPhone's address book even if they don't have the app installed yet. If this is the case, the app converts the call into a regular phone call.
Other features of the Viber app for iPhone include - always on app feature, no need to add buddies, missed call notification, good sound quality and more.
Our Verdict
Some people may say that the Viber app for iPhone is rather a useless app because if you make a call via 3G, you are charged for data airtime anyway, right? I agree. And most mobile carriers offer free, unlimited phone calling features anyway so why bother installing another app for this purpose?
The answers to those questions depend on the cost of maintaining your mobile plans, and the cost of maintaining your mobile data privileges. If making a phone call using your mobile data privileges is cheaper than using up your mobile plan's network privileges then Viber is a better option for you. You could also consider using the Viber app for iPhone since it gives you a "really free calling feature" when your iPhone is connected over Wi-Fi.
By the way, the Viber app for iPhone is free. So, there's no harm in giving it a try. Who knows, you might actually like it?