iPhone App Reviews: Find My iPhone App Review
Find My iPhone App Review - What is it?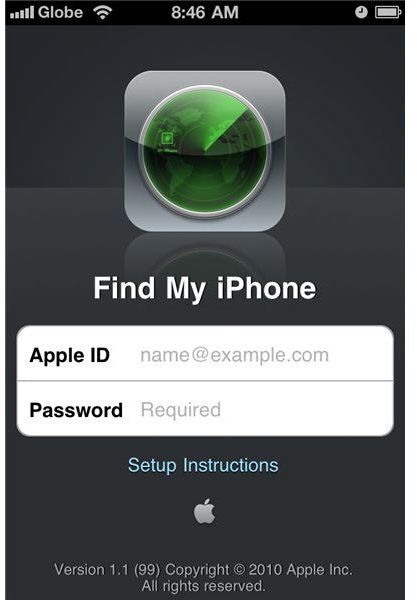 The Find My iPhone feature used to be available only for iOS devices if you had a paid MobileMe subscription. Since most iOS device users probably don't have this subscription, the Find My iPhone app never really gained too much traction. But this all changed during the Apple WDDC Event held recently. One of the highlights of this event was the announcement regarding Find My iPhone app making it to the App Store for free. Likewise, the feature is now also free to use even if you don't have a paid MobileMe subscription.
So, what is Find My iPhone app really? For the uninitiated, Find My iPhone is a pretty useful iPhone app that lets you locate your iPhone or iPad on a map when you lose it. It displays a message or plays a sound which will be seen by anyone who has your iPhone 4. The app also lets you remotely lock your iPhone 4 or wipe out all its data permanently. That way, your personal information is secured. Additionally, the app automatically signs you out after 15 minutes or you can manually sign out any time you want.
Find My iPhone App Review - How does this app work?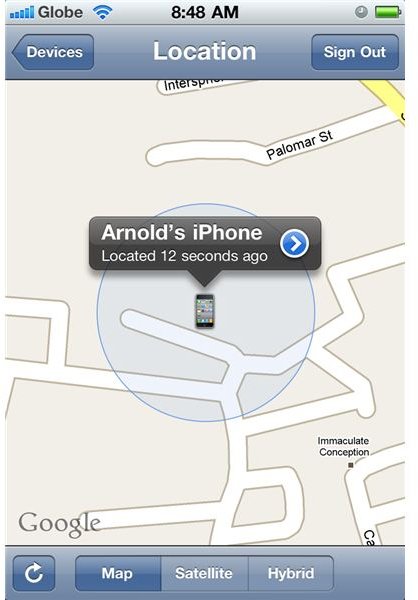 To get this feature running on your iPhone 4, you need to set it up first. Make sure that your iPhone 4 is running iOS 4.2. If you haven't downloaded the OS yet, read our post about iOS 4.2 to find out what you may be missing. Now, if your iPhone 4 is running iOS 4.2 simply go to Mail, Contacts, and Calendars in your device's Settings app. Then tap Add Account and then select MobileMe. Enter your Apple ID or MobileMe account email. Then check your email and click on the verification link provided. Go back to the MobileMe screen on your iPhone 4 and turn on Find My iPhone.
Now, fire up the Find My iPhone app on your iPhone 4 if you have already downloaded it. Enter the Apple ID or MobileMe account associated with your iPhone 4. Then watch the app triangulate the location of your device on the map. Pretty cool, right?
Of course, if you lost your iPhone 4, you can find its location and use the other features of this app by getting hold of another iOS device which has the Find My Device app (iPhone 4, iPod Touch, iPad). Then you can start wiping out data or remotely unlocking your iPhone 4.
Find My iPhone 4 App Review - Our Verdict
I've been toying around with this app for quite some time now, using my iPhone 4, iPad and iPod Touch. Based on my experience, the app works pretty well. Tracking and locating my iOS devices is pretty accurate, thanks to the built-in GPS features of these devices. But in the real world - meaning if you do lose your iPhone can the app really save your data from being stolen? What if the person who has stolen your device knows how to use the iPhone and simply turns it off? Then you won't be able to locate it anymore. Or what if the person immediately syncs your iPhone 4 to a computer and resets it to factory settings?
To ensure that whoever stole or found your iPhone 4 won't be able to use your device, try to run find my iPhone 4 as fast as you can before the person gets to do some trick on it.
Should you get the app? It's a free download and won't require you to pay any subscription fee, so there's nothing much at stake if you get it. If you decide to install it on your iPhone 4, here's the Find My iPhone Download Link.