Simon's Cat iPhone App Review
Simon's Cat Purrfect Pitch - What is it?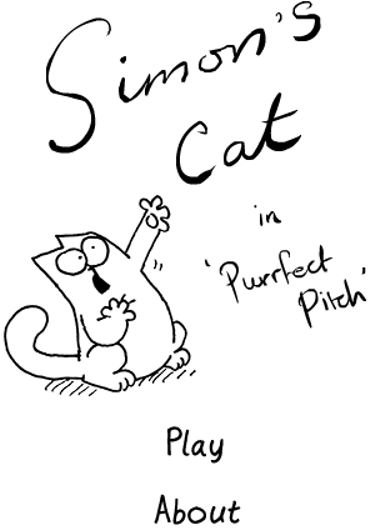 First and foremost, Simon's Cat is a black and white, hand-drawn character, unlike other famous cartoons such as Garfield who lives in a colorful world such as ours. With that said, Simon's Cat Purrfect Pitch iPhone game was definitely made for die-hard Simon's Cat fans. Another thing is that the game is musical in nature. So fans will definitely be delighted to see their favorite cat performing for them in the palm of their hand.
Next thing you should know about this app/game is that it is also a creative musical and game tool. It allows you to compose your own tunes, save them, and then watch as Simon's Cat sings them back. The game will test your ability to follow the lead of Simon's cat in various musical challenges that will definitely test your patience because of their difficulty.
Simon's Cat Purrfect Pitch - Features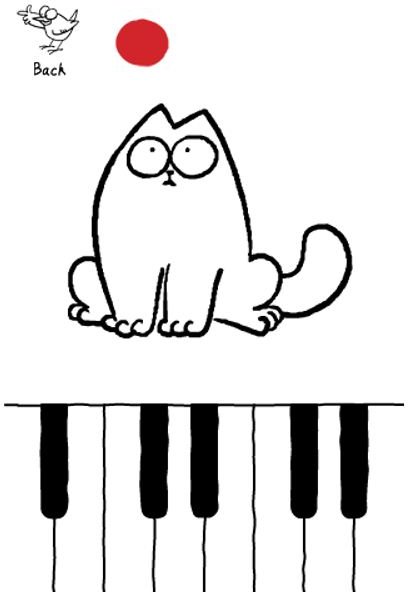 The moment you fire up this app, you'll be presented with three options - Free Play, Challenge and Playback. In Free Play you practically do whatever you want with the piano keys. The objective is to see Simon's Cat perform the tunes you play using the virtual piano keyboards. What's good about this option is that Simon's Cat responds to the keys you tap on as if he was singing.
Next you'll have Challenge which is the game part of this app. There are 12 challenges in all. And each of these challenges require you to follow the cat's lead. It starts with a few simple key combinations until it progresses to the most difficult challenges. When I say difficult, I mean really difficult. This game will test your patience and memory as well. To be honest, it took me several tries to complete the first challenge. Yes, that shows how poor my memory is right now. To make each of the levels enticing, Simon's Cat will show his exasperation whenever you fail to successfully follow his lead. Just seeing Simon's Cat do his antics will surely delight Simon's Cat fans.
In Playback, you can play the tunes you made during the Free Play option.
Simon's Cat Purrfect Pitch - Graphics and Sound
There's nothing much to say about the game's graphics. Like I said, Simon's Cat is set in a hand-drawn, black and white environment so don't expect anything fabulous about the game's graphics. Well, that is if colorful graphics are your thing. For me, this is a welcome change from the slew of graphics-intensive games that have been proliferating in the App Store. The game's black and white appearance is very refreshing and won't tire your eyes easily.
When it comes to sound, the piano sounds and Simon's Cat are just about enough to add to some fun aspects to the game.
Our Verdict
Like I said, this game was made for Simon's Cat fans. If you're one of them you've probably downloaded this game already and are now enjoying Simon's Cat on your iPhone. If you're not a fan, you might also want to check out this game as it offers something new for the iPhone. Who knows, you might become a Simon's Cat fan later on.
Simon's Cat Purrfect Pitch Download Link. (Price: $0.99)