The Official Google Voice iPhone App Review
Introduction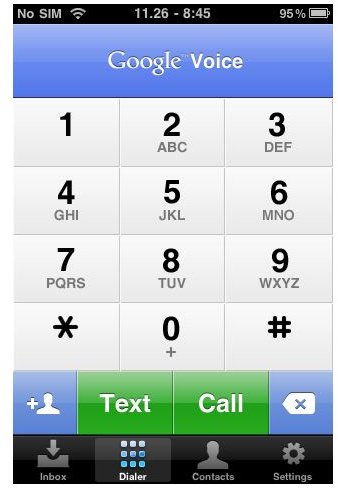 As a long time Google Voice user, I was thrilled with the recent change of heart that Apple has had regarding a mobile Google Voice app in the official App Store with the third party GV Mobile + and GV Connect. More recently though, Google has released their own free official Google Voice App which is equivalent to their Android counterpart.
Unlike the web applet version, the official app stands alone and can do everything you would expect from using Google Voice in your computer's browser and more integrating with your iPhone's contacts and routing your calls through your cell phone.
Concept and Design (5 out of 5)
The app makes it extremely simple and easy to find what you are looking for. On any screen, there are four main tabs: your messaging inbox, phone and text dialer, your contacts (favorites and recent), and settings.
If you aren't familiar with Google Voice, you should definitely check it out. In Gmail, you can make free calls within the US and Canada, but with a full fledged account, you can have your own number (in any available area code) to make AND receive calls (and forward them to any other number). It also gives you free text messaging and calling throughout the USA and Canada, which can really save you money on your phone bill!
In short, the app allows you to view your messages as if you were reading your email (grouped into folders) and broken into message threads and dial or text any number (even international ones through their discounted long-distance rates). It is worth mentioning that this app does not place calls through the internet. You will still use your phone's "minutes." But for calling internationally, you won't pay any additional fees from your carrier. Text messages are also free as those are routed over the internet. So if you don't have unlimited text messaging, but like to text a bunch, this app is great for that!
Functionality, Content, and Bugs (4 out of 5)
As already stated, the app functions extremely well. It's not packed with content, but Google Voice itself isn't all that complicated a service. At its core, it's a phone with voice calling, text messaging, and voicemail messaging. It really doesn't need a bloated app to weigh it down.
The Google Voice app is only supported on iPhones with iOS 3.0 or later. This means all of you with iPod Touches or iPads are out of luck at the moment. Perhaps this is Apple's restriction or just an oversight on Google's part. Either way, hopefully it gets expanded to all iOS devices as there is no reason it should be restricted to just the iPhone. I would recommend GV Mobile + if you are on an unsupported device.
Having used the Android app, one notable feature is missing, the ability to route all calls or just international calls through Google Voice automatically. The work around for this, of course, is to bring up the app every time you want to use it, but since I don't do a lot of international calling, it hasn't been a big deal. It would just be nice to have it as an option so that I can use Google Voice more.
Coming from GV Mobile +, I do miss the feature of accessing multiple Google Voice accounts from the app. It's not unexpected that Google's official app only supports 1 account (at a time without logging out) though. I definitely feel more secure though putting my Google Account credentials in Google's official app.
Value (5 out of 5)
Minor gripes aside, this app is phenomenal and many have been waiting a long time for it. For the price of free, it's beats GV Mobile + and GV Connect which are $2.99 each. It can be downloaded in the App Store via iTunes or your iPhone. Thank you Apple for the change of heart regarding Google Voice support! And since it's a first-party official app, you can rest assured knowing your security and calls and messages stay with Google
Google Voice for iPhone Overall Conclusion (4 out of 5)
Even if you don't currently have a Google Voice account, it's definitely worth signing up for a free one to get your own second number and be able to use it with your iPhone. If you have read everything up to this point, you should already see the favorable review for the Google Voice App for the iPhone. It gets 4/5 for its many features and easy to use interface! Should the app be updated in the future to address some of its shortcomings, this review will be updated.