Microsoft Office iPhone App Options
Microsoft Office App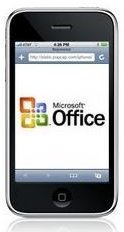 Mobile applications are becoming popular day by day as they offer quick and easy access to your work anywhere. In today's fast moving world of ever expanding businesses, employees need to be in touch with their work all the time. Microsoft Office app for iPhone is one such eagerly awaited application that will allow efficient communication and collaboration.
Availability
Currently, the full version of Microsoft Office app is available for those with a Windows Mobile 6.5 device and the new WP7. This new tool was launched back in May. It lets its users edit Word, PowerPoint files and Excel, along with OneNote. Microsoft Office Mobile 2010 promises to maintain rich formatting, like charts, tables, and SmartArt graphics. The basic functions available through this mobile software are quite similar to PC software.
Windows Phone 7 is only just out but Microsoft has already announced its alliance with Nokia to bring MS Office Mobile to millions of Nokia mobile users, followed by other smartphone platforms which include iOS, Android, and RIM's BlackBerry OS.
Office 2010 Web Apps
Meanwhile, Microsoft is working to bring Office Mobile to iPhone, its users can make use of new software which is compatible with Microsoft Office 2010 PC edition. This Microsoft office app for iPhone, Office 2010 Web Apps, supports online editing of documents. The Office 2010 Web Apps version is free to download and install.
Features
Users will be able edit existing Microsoft office documents and templates with web apps but for creating new files, Windows Mobile 6.5 OS or above is required on your iPhone.
Word Web App: Word Web App lets you make quick changes in word documents with the help of familiar Word tools like spell-check, AutoCorrect, paragraph and font formatting. It also allows you to add pictures or tables to documents from your files or from Office.com.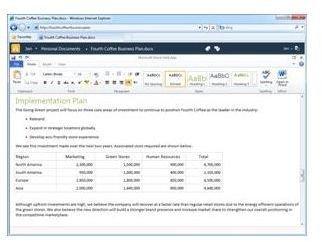 Excel Web App: With Excel Web App, you can do anything from revising a budget with teammates to quickly tracking your exercise schedule. The app allows you to simultaneously edit the same workbook with team members across the globe or across the conference hall. You can edit formulas, sort columns, view charts, and make use of IntelliSense lists to create similar functions that you use from MS Excel.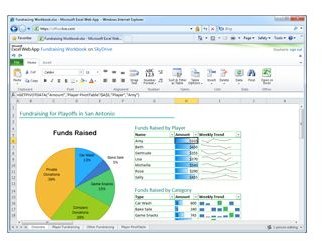 PowerPoint Web App: You can run your presentation anywhere and edit them directly from the web browser via PowerPoint Web App. You can also add slides, delete slides, insert pictures, change paragraph and font formatting with the help of PowerPoint Web App.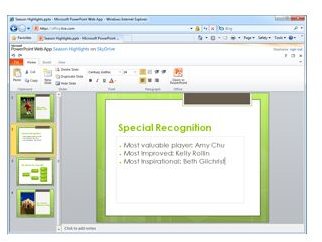 OneNote Web App: OneNote Web App lets you store all your ideas and information at one suitable place online. You can share your notebook with everyone and simultaneously edit it by using OneNote Web App along with OneNote 2010.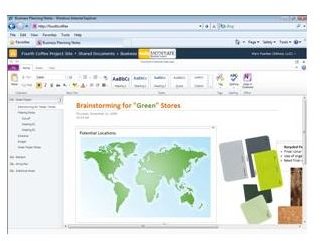 Compatibility
Office 2010 Web Apps are fully compatible with all iPhone models and they work well with Safari 4 browser on iPhone 3G and 3GS. These apps allow you to access your work office documents such as Word, PowerPoint, Excel, and OneNote from practically anywhere.
Third Party Microsoft Office Apps
However, if you are still looking for more options to work on Office documents via your iPhone, then there are many third party apps available for iPhone like Quickoffice Connect Mobile Suite, and Documents To Go. These apps allow you to view and edit MS Office documents. Another effective alternative is Google Docs.