Skyfire Browser for iPhone App Review
Introduction to Skyfire
When first introduced earlier this month, the mobile community was abuzz. Could Skyfire really bring Flash video content to the iPhone in a seamless, fast way? Having first launched on the Android platform, Skyfire 2.0 has proven that it is a solid contender. But, is it enough to replace Apple's Safari browser on your iPhone? In this review, we'll find out!
Concept and Design (5 out of 5)
Skyfire is a full-featured mobile web browser. It supports bookmarking, tabs, quick access to Google, video, or Wikipedia searching, a customizable homepage, pinch-to-zoom multitouch, and even a private browsing mode. The headline feature, of course, is the ability to play Flash videos through Skyfire's Flash-to-HTML5 conversion service.
Another unique feature is the ability to show similar websites, much like Internet Explorer 8's "Suggested Sites" feature on Windows. The Skyfire browser app can do everything you would expect of a standard desktop web browser. You can even emulate a mobile or desktop browser through user agent switching in case whatever website you happen to be on has a separate watered-down mobile portal.
Functionality, Content, and Bugs (3 out of 5)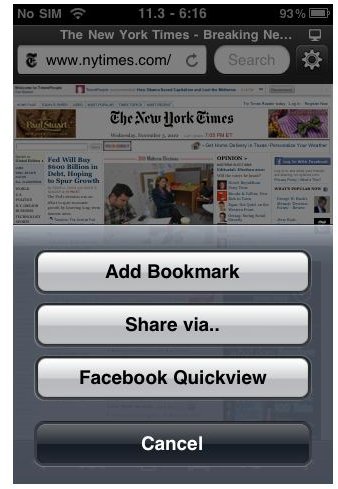 The browser in its most basic sense, functions as it should. It gets you to and from pages and helps you find information fast. One neat feature is the ability to orient your iPhone or iPod Touch in all 4 orientations. So, like the iPad, there's no single correct way to hold it. The search functions are great. Like a desktop browser, you can search Google, videos, and Wikipedia via the toolbar. I hope they expand this to allow for other sites and that it gets adopted by Safari, much as it has been in desktop browsers for some time.
Since Skyfire converts Flash videos into HTML5 videos, it only works for videos and movies. That means no Flash games, apps, or interactive content. And unfortunately, there are some websites (Hulu in particular) which have blocked mobile browsers due to licensing issues and their Hulu Plus app. Speaking of HTML5, Google Instant doesn't seem to work without crashing (works fine on Safari).
If you are jailbroken and already use Frash, it will work in Skyfire the same way it works in the default Safari browser or any other app. Together it makes a pretty good combination allowing you to play a good amount of Flash content. Still of course, no games or apps!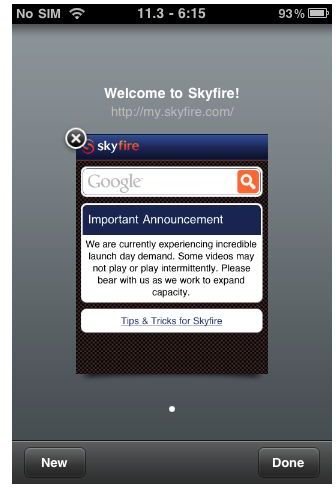 On the downside, one of the things I did notice is the lag when browsing large pages and especially pinching to zoom and scrolling from side to side. It would stutter and jerk as you made your movements, something you rarely see from Safari. Even when a page fully loaded, it was jerky.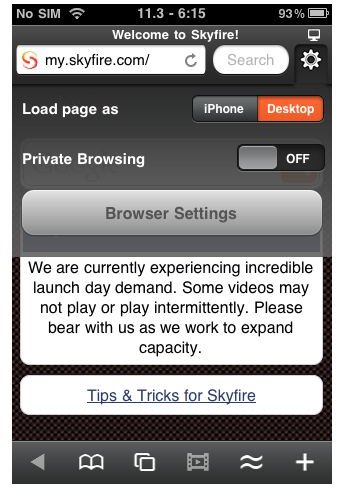 Initially, when Skyfire was first released, the video streaming (conversion of Flash to HTML5) was slow due to the large demand it put on their servers. Now that the app has been out for a little while, things have sped up. It is still not 100% reliable but is probably the best solution out there. In fact, there are plenty of videos it just refuses to play for one reason or another. Notably, one of the things that is missing is the ability to scrub the video, that is, to be able to click around the video to go to different points. So if there's a portion you want to skip, you're out of luck. Perhaps this is a limitation of the HTML5 player or something that may get addressed in the future.
Value (4 out of 5)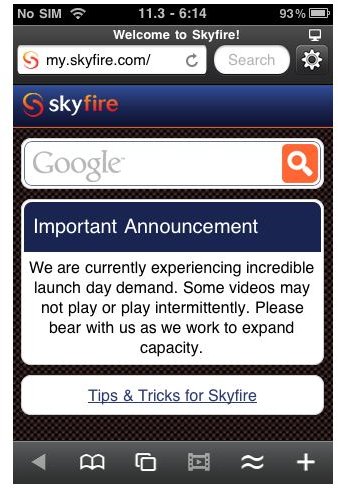 The Skyfire Browser sells for $2.99 in the Apple AppStore. They claim that is the "ONLY WAY" to browse Flash videos. We know that's simply not true with Frash for Jailbroken devices, but I guess, they can claim it's the only Apple sanctioned method. For $2.99, I'd say it's worth the ability to play videos. It's definitely worth at least a test to see if it will play the videos you watch regularly. For a full-fledged product, $2.99 isn't outrageous and still cheap enough to buy to have handy.
Skyfire Browser for iPhone Overall Conclusion (3 out of 5)
Overall, I would give it a 3.5/5 because there are still many bugs and reliability that needs to be worked out. It marginally gets my recommendation. For me, it will not (yet) replace the default Safari browser (and Frash combination) which has been so well tested and works. The developer has promised future support for Microsoft Silverlight and Windows Media which would be a welcome addition.
Skyfire Screenshots