Foodspotting iPhone App Review
Concept & Design (4 out of 5)
We have all had one of those, "where should we go to eat?" moments, and that is where Foodspotting comes in handy. Imagine an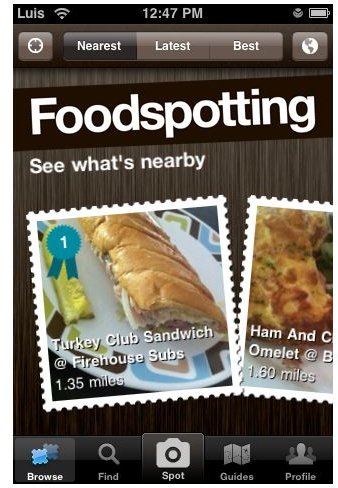 iPhone app which allows you to find the perfect meal and share your experience with great meals (or not so great meals).
Foodspotting offers social networking for the gastronomic world and it aims to provide a way for users to share their experiences with restaurants, food vendors and road-side food stands. If you can take a picture of it and eat it, you can share you experience with it on Foodspotting.
Aside from being able to share your own experiences, Foodspotting provides a way for you to find and take a look at food and restaurants in your area. They also include several guides including Anthony Bourdain's No Reservations and Top Chef. This is a great idea and a handy outlet on your iPhone to help settle where you will eat for dinner.
Functionality & Content (4 out of 5)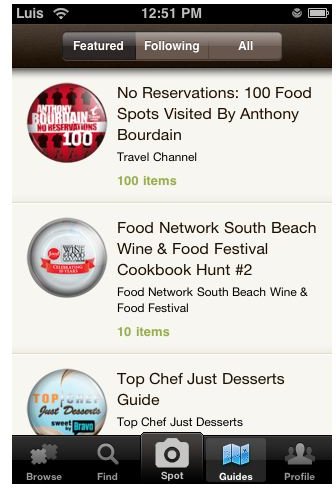 Foodspotting works very well and is designed to fit the standard iPhone experience. The app opens quickly and asks to use your location upon start up. Selecting yes allows the application to find food experiences closest to your current location (as determined by GPS).
The application has a pleasant design and presents the content in a pleasing manner. Pictures are displayed with the name of the dish, location and distance. Tapping a particular image will enlarge it and provide more details such as how many people have seen it, how long ago it was posted and who posted it. Tapping the image again will bring up the location on a map, provide the phone number, street address and name of the business. Users are also given the option to read comments about the particular food item and post comments.
The "Find" option allows you to specify which restaurants or types of food you are interested in. You may also find the "best" of a type of food using the find option. To "Spot" food, you need to create an account which is done quickly and easily through the application. The application does a nice job of making it easy to post something you've "spotted" utilizing the internal camera and GPS. The "Guides" tab provides access to some food guides such as those by Anthony Bourdain, Food Network and many others. They are a nice and warranted addition to the regular users listings and opinions.
Foodspotting is truly the social networking equivalent in the food and restaurant world. The content varies greatly depending on your location. Users in more populated areas, especially big cities will find a very comprehensive list. We tested the application in semi-rural Virgina and still found a wealth of results within a close proximity. The user base for Foodspotting is good and that makes the application all the more useful and filled with content.
Conclusion (4 out of 5)
While Foodspotting does not do anything dramatically different on the iPhone, it does provide users a solid way to check our user-generated feedback on local restaurants and more specifically: the food they serve. It also provides a nice way for a user to share their opinion on a specific restaurant or dish.
We really enjoy the neat presentation of the Foodspotting iPhone app and the sleek integration of the camera and the GPS. There are enough users and content to make the app useful, especially in densely populated areas. It will be interesting to see how this app continues to evolve as more users submit their opinions and more photos become uploaded.
iPhone users may also find our list of iPhone Apps for Wine Enthusiasts to be helpful and if you are worried about overindulging check out our review of the iPhone Calorie Tracker App.