iPhone App Review: SocialPhone iPhone App Review
SocialPhone iPhone App Review
SocialPhone is a new iPhone app that is slowly making waves among iPhone users lately. It's a very useful iPhone app that poses as your ultimate address book that you can use on your iPhone. It does this by combining all your contacts and social networks into one simple iPhone application.
SocialPhone's features can be categorized into three - social networking, extended address book and contact assistant. For its social networking features, the app supports three major social networking sites - Facebook, Twitter and LinkedIn. It doesn't just integrate your contacts from those sites but also lets you post status updates, access updates from your contacts through a combined feed, read and post comments (for Facebook and LinkedIn posts), retweet or respond to Twitter posts, and view post details and open links as well as attachments. The app's integration with these social networking sites is simply flawless and robust.
As an extended address book, the app lets you reveal shortcuts for calling, emailing and texting a contact with simple swipe gestures. It also lets you view your contacts in list or grid format with images and job details. Other things you can do include - add contacts, mark contacts as favorites, view contact groupings, and merge contacts.
Finally, the app is also a contact assistant. It lets you update your address book contacts with the latest details from their Facebook and LinkedIn accounts. It also serves as a contact analyzer and helps you clean up your iPhone's address book by telling you about issues and missing data. If this is the case, you can determine whether you need to save the contact's data or delete them already. A nice feature of the app is the functionality for extracting contact details from a business card. You can use your iPhone's camera to scan the business card and the app will extract pertinent data that you can save in your address book. The app also lets you learn more about your contacts through a quiz which you can play by yourself. The data is gathered from your iPhone's address book.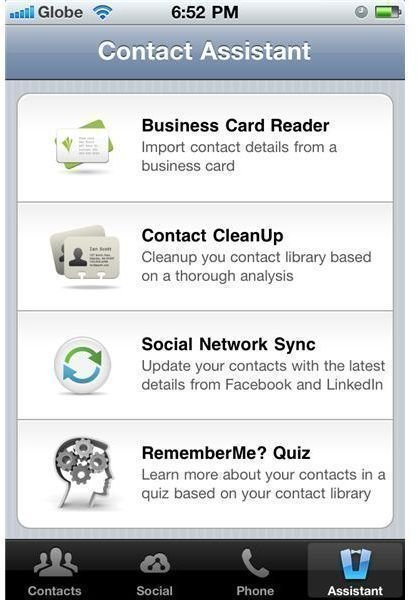 Design and interface-wise, the app gives you four options the first time you fire it up. These options are located on the bottom part of the screen - Contacts, Social, Phone, and Assistant. Tapping on Contacts will display your address book. The phone options gives you the iPhone dialer. The Social option lets you access a feed from the three social networking sites mentioned. You can view them per site or combined in a single feed. The Assistant option gives you access to the other features of the app - business card reader, contact cleanup, social network sync and the quiz.
Our Verdict
So, is this iPhone app for you? Should you pay $1.99 to get it running on your iPhone? It depends on several things. If you have accounts in Facebook, Twitter and LinkedIn, you'll definitely find this app very useful and a must-have. If you want a single app to manage your address book and social networking contacts, needless to say - this app is for you.
SocialPhone is available from the App Store for $1.99 on a limited run. Here's the SocialPhone download link.