iPhone App Review: Instagram iPhone App Review
Instagram iPhone App - What is it?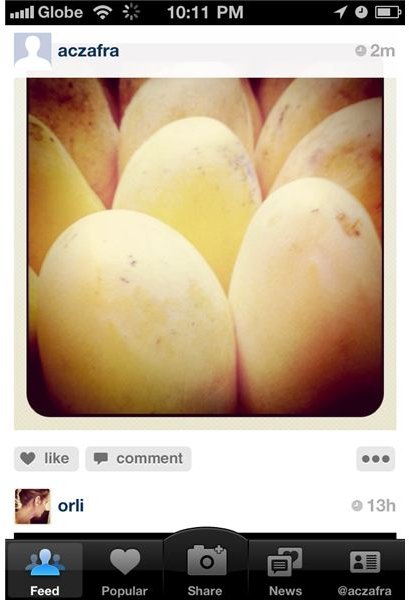 For the past couple of weeks I've been constantly taking photos of anything that catches my fancy. Be it food I order from a restaurant, stuff I see around, small objects, toys and other things, I make it a point to take a snap of them. I don't use the boring iPhone default camera. I use a third-party app which I recently discovered. It's called - Instagram.
The Instagram iPhone app is a mixed breed of photography and social networking app. As a camera/photography app it lets you use your iPhone's camera to take photos of anything you want. Right after taking the picture, the app then gives you various photo filters that you can apply to give your photos that cool, retro look. There are 11 of these photo filters, excluding the normal one.
So, what happens after you've applied a filter to your photo? You can then add a short description of the photo, geo-tag it, and then most importantly share it with your friends and family via the following social sites - Twitter, Facebook, Flickr, Tumblr, and Foursquare. The app covers all the major social/microblogging/photo sharing sites.
After sharing, the app then saves your photos. But before you can share your photos to those sites, you must first configure the app to connect to those sites. This is one issue that I have with the app. You have to configure it every time you want to share a photo. Hopefully, in a future update, there will be an option to leave this turned on continuously and it will be turned off only if you don't want to share your photos.
Instagram iPhone App - Features
Aside from applying photo filters and sharing your photos to various social sites, the app also lets you connect with other Instagram users. Once you're connected with these users, you can then browse through the app's feeds to see the photos those users have taken and saved on Instagram. You can also browse for popular photos on the Instagram site or browse your own Instagram photo collection. Another feature of the app is labeled - news. I'm assuming that this pertains to relevant news about the app. Unfortunately, when I click on it, nothing is being displayed yet.
While inside the app and browsing your friend's photos, you can like or make a comment. This is another feature that makes the app social.
Our Verdict
Instagram is gaining popularity right now. In fact, it has been the featured iPhone app on the App Store for a couple of days now. This only means that the app is indeed interesting, useful, and more importantly fun. The app sort of puts a new meaning to the iPhone's camera. Believe me when I say that this app will make you use your iPhone's camera more often.
For a fairly new app, I can't commend the developer enough. Instagram is sleek, snappy, and very robust. The straightforward approach to what it can do makes this app one of the coolest and also best iPhone camera apps.
Instagram is available now from the App Store for free. It wouldn't hurt you to give it a try. And I bet that once you do give it a try - you'll love this app and your iPhone camera more.
Download Instagram now.