Fuel Finder iPhone App Review
Concept & Design (4 out of 5)
The Fuel Finder iPhone application is not the first gas application for the iPhone, and it won't be the last. It was previously known as GasBuddy but whatever the name this iPhone application finds your current location by GPS (or you can manually enter a zip code) for U.S.A or Canada. Once it has your current location, it will then locate the cheapest gas within reach.
Fuel Finder relies on a large database, which is constantly updated. It provides you with vital information such as the distance of the gas station, the name and the current price per gallon (based on grade of gas). The concept is great and the design is right on par. This is one app which might actually save you money, and that makes it worth a look.
Functionality & Content (5 out of 5)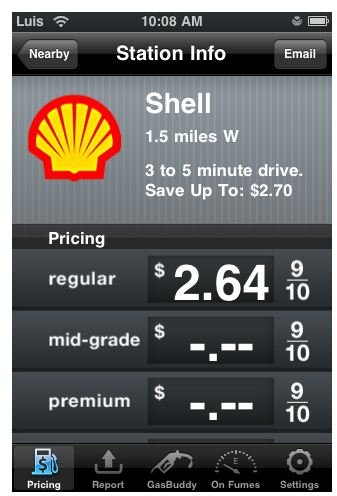 Fuel Finder works surprisingly well. It does exactly what it advertises, with very little need for user input. Upon firing up the application, it will ask for permission to use your current location. After selecting yes, it will quickly display a list of gas stations, sorted by price.
You also have the option to sort this list by distance. Selecting a particular gas station will bring up more information including more detailed pricing (of all grades of gas, if available), the exact distance, estimated time to drive to the gas station and potential savings by selecting the gas station in relation to other gas stations. There is honestly not much more information you could ask for, and that is why this app is ahead of its competition on the iPhone.
Aside from the ability to view gas stations, you can also email the particular data from any gas station to your friends. Looking at the bottom of the app will reveal five navigational buttons. The first, Pricing, is the default. Next is the Report button. This displays a list of gas stations and allows you to manually report data. You can report new prices or a new gas station for future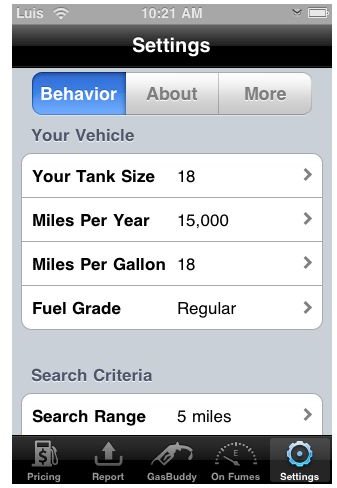 use and to share with the Fuel Finder community. The third tab is mostly informational. The fourth tab, On Fumes, will display a map with your current GPS location and the nearest gas stations, this will help you find a close gas station.
The last tab is Settings, which is fairly self-explanatory. Settings include things such as your car's gas tank size, miles per year, miles per gallon and default fuel grade. These help with the savings calculations and distance calculations in the app, it is worth setting these values the first time you use the app. You can also change some other settings such as search range and the price again time (the default is 96 hours). For those who enjoy the metric measurements, there's an option to convert units to metric too. You may also enter your Gasbuddy.com username and password, should you happen to have one.
Is it Worth Buying? (5 out of 5)
Overall the Fuel Finder iPhone application is one of the best gas pricing applications available. The user interface is incredibly simple and easy to operate, results are fast and accurate and the price tag is very reasonable.
It may not be free, but this small investment will quickly pay for itself. Using the app it is possible to save up to two or three dollars per fill-up. The ability to add new data is also handy, email sharing makes it great if you find a low price and want to tell a co-worker, family or friends.
This app is particularly useful when you are traveling or on the other side of town, and have no idea where to find gas, much less the best gas prices. There are some free gas apps in the App Store, but nothing comes close to this, and that makes it worth the humble price of $2.99.
References
Fuel Finder, https://itunes.apple.com/us/app/gas-buddy-cheapest-gas-in/id299969005?mt=8