Updated in July of 2010, the Chase iPhone app is a great online banking app for iPhone users. The Chase Mobile Banking app is well-designed and simple to use. This free app lets users pay their credit card bills, move money between Chase accounts, and even use the iPhone camera to deposit checks into a Chase account.
Chase iPhone App - Simplicity Defined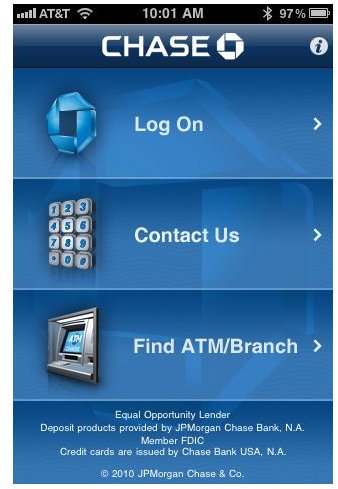 When you open the Chase iPhone app, you are given 3 choices:
Log On
Contact Chase
Find an ATM or Branch Bank
No confusing menus, no cluttered and claustrophobic screens, just 3 self-explanatory options. Contacting Chase gives you a choice of support options to call, and automatically dials the number for you. Finding a nearby Chase ATM or Bank is done through the location services on your iPhone. If there is a Chase Bank or ATM machine nearby, the app will give you the address and distance to the nearest location.
The option most people will select, and the first one I tried out, was to log on to my Chase account. When you select this option, you are asked to enter your username and then your password. To save time, you can set the app to save your user ID; however, for security reasons, the app will not save your password. Chase has made the correct decision between security and slight convenience and gone the extra mile to make this app - and your banking information - as secure as possible.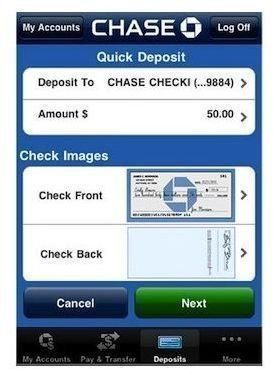 From here, you are given an overview of all your Chase accounts - checking, savings, credit cards, and so forth. You can pay balances, transfer money between savings and checking, deposit checks into accounts - yes, you can deposit a check into your Chase account, using the camera built into your iPhone. It is pretty simple in how it works - just open the app, and take a good picture of the front and back of the check. The app can analyze the routing number, the account number, and the value of the check itself, and can then deposit that amount into your Chase account.
If you are worried about the security implications of this, I understand, but optical scanning is the same process used by most ATM machines these days, so this process just saves you from having to visit your bank.
Managing your Chase credit cards on this iPhone app could not be any easier. Want to check the card activity? Just tap on the outstanding balance, and the app will display where the purchase was, the date, the transaction number, and the amount of the charge. Want to pay your credit card bill? Just tap on "Pay credit card" and fill in the amounts and the funding source - such as your checking account - and you can pay off your Chase cards from your iPhone.
The Final Word (5 out of 5)
Simple. Efficient. Well-designed. These are 3 ways to think of the Chase iPhone App. The features cover all of your Chase Banking needs, while letting you do so from anywhere you please. The use of location services to find a nearby branch office or ATM machine is a great touch, and the ability to deposit checks via the iPhone camera is an appreciated time saver, and can even save you a few bucks, depending on how far the drive to your nearest bank is. Credit card management is also handled very well with this free app.
I give this free iPhone app a 5 out of 5. If you do any of your banking through Chase, and you own an iPhone, go download this free app right now.
References