Awareness! iPhone App Review - How the Awareness App Works
Concept (4 out of 5)
The awareness app for iPhone is a great concept. The idea is to enable you the ability to perform daily activities such as walking, biking or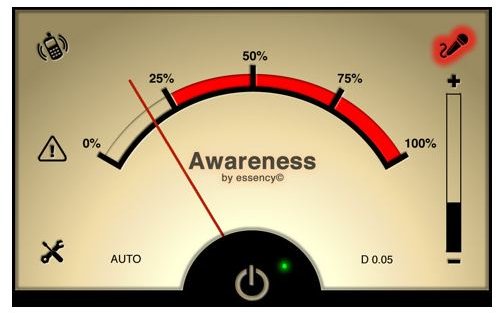 even working while listening to music. At the same time, the app will enable you to keep in touch with the real world and hear what is going on.
The application works by using the microphone to mix the sound from the outside world with your music. This enables you to hear everything that is happening around you at a lower volume. This provides a comfortable way to listen to music without missing someone calling your name or an important announcement.
Functionality (4 out of 5)
Putting the awareness app to the test meant taking it for a spin. The first thing that should be noted is that awareness app will not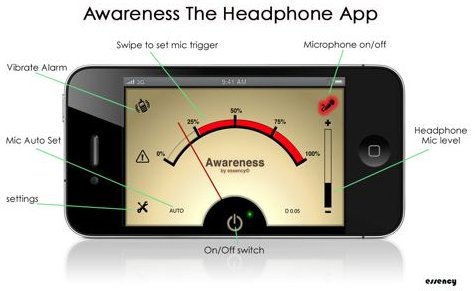 work on older iPhone's. It requires an iPhone 3GS or iPhone 4. It will also require the wired headset, which is a real annoyance for those whom enjoy using Bluetooth headsets.
To use the app, simply put your favorite music on from the iPod app and then launch the awareness app. Several settings and adjustments make the operation a little more elegant. Firstly, setting the mic trigger will make the awareness app more comfortable to use. This allows the level at which the mic will be activated to be adjusted. The mic can also be manually turned on and turned off. dB level adjustment allows for more control over the mixing of the audio.
Finally the dB display shows you exactly what is going on in terms of sound. Using the dB meter to test the level of some common event is a good way to determine how to configure your awareness app. Once the app is going, it works quite well. Testing it in an office setting, in the car and on a bike provided a wonderful experience.
There is also an option to enable vibration alerts which is a good feature. Turning the audio level from the mic down to low and enabling the vibrating alert is quite handy. This enables the application to alert you without interrupting your music.
Conclusion (4 out of 5)
Overall the awareness app does exactly what it advertises. The app provides a good level of control over audio limits, mixing and even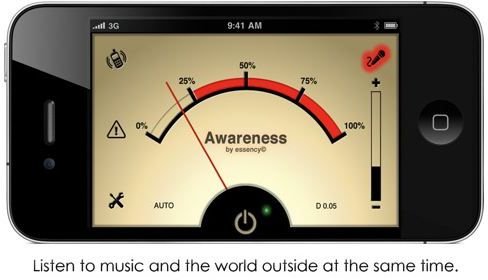 adds the option for a vibrating alert. The awareness app gets a rating of good only because of a few minor flaws that hold it back.
First of all, it does not work with Bluetooth or wireless headsets, which is very disappointing. The other big flaw that awareness app only works with the iPhone 4 and 3GS. Many users still have the original iPhone and 3G and do not have plans to upgrade. In reality, if you are already using a wired headset and have an iPhone 3GS or 4G, then the awareness app is a great tool for you.
You can download the Awareness App on iTunes here. Check out this article for more great iPhone Music Apps.
Screenshots belong to the developer of the Awareness app, Essency.