Cook's Illustrated iPhone Application Review
Overview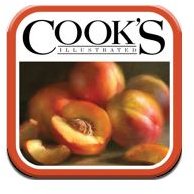 The Cook's Illustrated iPhone application gives users the ability to search through a selection of Cook's recipes, save recipes that they might like to prepare later on, and create a shopping list for specific items they might need to prepare a specific dish.
Searching for Recipes
The Cook's Illustrated iPhone application allows users to search for a recipe for specific items, as well as navigate through the available recipes in the app by category. Categories of recipes represented in the app include: Vegetables, Salads, Pasta, Stews, Meats, Grilling, and many others. Once you select a certain category you then have to select a country such as "French" or "Indian" before you are taken to a page of recipes. The recipes are exceptionally well organized, making it easy to find a specific recipe within the application fairly quickly. According to the download page for the Cook's Illustrated application, however, the app only has 50 different recipes in it. The small number of recipes makes finding a specific recipe you might be interested in fairly difficult, simply because there aren't very many options.
Recipes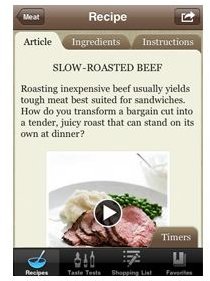 If you do happen to find a recipe you would like to prepare, then the Cook's Illustrated application does a good job of letting you know exactly how to do it. The application offers fairly thorough written directions on how to make each dish, as well as in many cases a short video demo of how to prepare the item as well. The application also offers built-in timers within each recipe so you can time out particular tasks within the meal preparation.
Taste Tests
The "taste tests" tab within the Cook's Illustrated app had me puzzled at first. At Cook's they have done a taste test of certain ingredients, determining which manufacturer for instance makes the best chocolate chips. If you're at the store, and aren't sure what type of cheese to buy then this part of the application could come in handy. Much like the recipe portion of the app, however, there aren't that many taste tests included, so you more than likely won't find what you're looking for, simply because it isn't there.
Shopping List and Favorites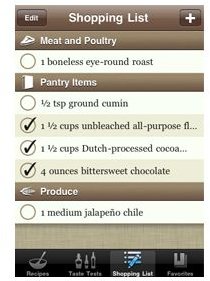 Once you select a recipe you would like to prepare, the Cook's Illustrated application allows you to create a shopping list for items needed to make that recipe directly within the app. The app automatically creates a shopping list for you, and allows you to virtually check that list off as you put items in your shopping cart, making sure you don't miss anything you might need. The app also allows you to save recipes you find into a "Favorites" list that can be accessed later on when you want to prepare them
Conclusion
Overall, the Cook's Illustrated application is a very well organized app, with videos and features that make preparing the recipes included with it quite easy. The app could be made more useful with the addition of more than 50 recipes.
Check out the Top Ten iPhone Cooking Apps for more ideas to help you in the kitchen.