Hot or Not iPhone App Review
Getting Started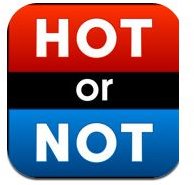 The first time you launch the application Hot or Not will ask for permission to access your current location. While you can choose to not make your location available, that will in many ways negate the actual usefulness of the app, whose main purpose is to help you locate singles in your area. Once you choose to allow or disallow the Hot or Not iPhone app access to your location, you can then log into your account (if you already have one) or create a new account to start browsing profiles. Setting up a new account is a fairly simple process, requiring you to just select a username and password, and it only takes a few minutes to complete.
Browsing Profiles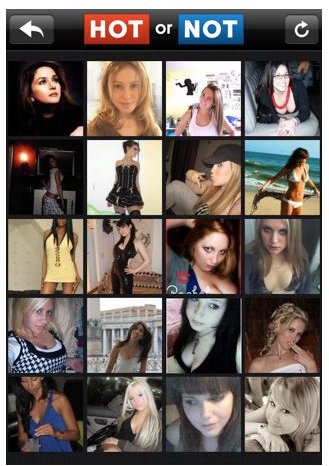 The actual profile browsing on Hot or Not iPhone app is fairly awkward. All of the profile pictures for people in your area are displayed on the screen in a tile form. Tapping on a particular photo will bring up the profile page for that specific user, with a larger look at their photo as well as a few sentences about themselves. In my area, this was for the most part just people's names and ages, with the occasional mention of a personal interest such as "I like to play basketball with my friends." Once you pull up a single profile you can then flip through all of the profiles that are available by sliding your finger across the screen, much like you flip through photos in an album on your phone.
Contacting Users
At the top of each profile page there is a star and an envelope icon. Tapping the star icon on a page will add a user to your "Favorites," a list of users you find attractive that you may want to access later on. Tapping the envelope icon will allow you to send an email message to that user, perhaps indicating your potential interest in them. The home screen of the app offers easy access later on to your list of personal favorites, as well as a link to your own personal inbox where you can receive messages from other users of the app.
Overall Impressions
If you're used to the traditional Hot or Not website, then you will undoubtedly be disappointed by the iPhone application. Hot or Not by definition is a site where you rate pictures of others, simply stating whether you think they are hot, or not. Many of the traditional users of the site aren't really looking for a date, but more to have complete strangers judge them solely on their appearance and hopefully rate them "Hot." The Hot or Not application doesn't actually give you the ability to rate anyone's picture as Hot or Not, and by giving out your location you make it so anyone in your home town can see you on the app, something that kind of negates the point of being rated anonymously by strangers. If you're looking for a date, there are much beter iPhone applications out there than this one. Check out our Top iPhone Dating Apps for some ideas.