Groupon iPhone Application Review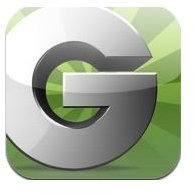 The Groupon iPhone application is designed to be used by Groupon users who want to be able to buy deals, as well as access Groupons they have already purchased while on-the-go. If you are a Groupon user (or just an aspiring one) the free Groupon app is a must-download and is definitely something you'll find yourself using more than once.
Buy Deals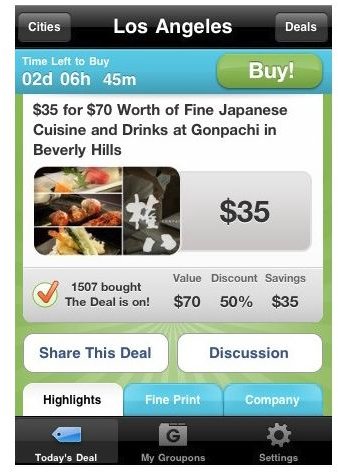 With the iPhone Groupon application, users sign into the application using their Groupon username and password they have previously set up on the website. During sign up a user will indicate what city or town they live in. Once signed in, the application will then display information about the current deals available for purchase in that area in the exact same manor as the traditional website. A small paragraph will explain what the deal is and how much of a discount you would be receiving, a time clock at the top of the page will let you know how much time you have left to buy, and a small slider display will let you know how many people have taken advantage of the deal thus far. If you decide the deal is a good one and want to purchase the Groupon, you can do so directly on your phone- with no need to log into the site using an actual computer.
Share Deals
If you see a deal on the Groupon application that you would like to share with a friend, the application has a "Share This Deal" button that allows you to send the Groupon instantly in an email, post it on your Facebook wall, or post a tweet about it on Twitter. Most Groupons require that a certain number of people commit to purchasing them before the "Deal is On" so sharing the deal might be necessary in order to be able to take advantage of it on your own.
Discuss Deals
A "Discuss This Deal" button on the deal screen allows you to discuss the current deal with other Groupon users. In many cases this is humorous conversation, but if you have a serious question about the deal or what it might include-then this in the place to ask those questions. You can also peruse what other users have said about the deal, in order to help make an informed buying decision.
Redeem Groupons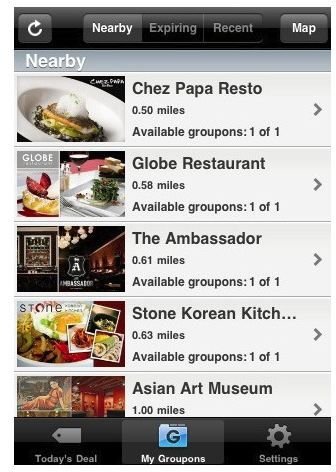 Perhaps the most useful part of the Groupon iPhone application is its ability to access previously purchased Groupons through the "My Groupons" tab. Within the iPhone application, users can access any Groupons they may have already purchased, and redeem those Groupons. For instance if you purchased a Groupon for "Dave's Beer Barn" then you could simply launch the application and show Dave your Groupon in order to redeem it, eliminating the need to print the Groupon out on your home computer. Groupons can also be sorted by establishments that are nearby, or by those that might be expiring soon, letting you keep track of your Groupons more efficiently.