Pandora for iPhone Review: A Great App for Streaming Free Music
What is it?
Pandora Radio allows users to create a free account (or use an existing account) to stream music from various genres through both the EDGE and 3G networks to the their iPhones. Based on the website version (www.pandora.com), users can rate music and the service will make future music selections based off your ratings. This radio app is one of the most advanced music apps on in the App Store right now.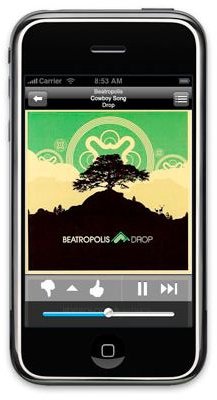 Special Features
Pandora Radio lets users customize multiple stations to listen to for the many moods that we find ourselves in throughout the day. You can create a station by searching for an artist or song, and that station will play music similar to your selection. Pandora keeps track of your stations both by date and in a contacts-like, A-Z list for easy scrolling.
This free app offers unlimited music just like the radio. The user is allowed to skip songs, but only 6 skips are permitted every hour due to copyright restrictions. Despite the feature being limited, it is still very useful to be able to skip over a song that you're not too fond of.
Besides rating the songs with a thumbs up or a thumbs down, the Pandora app also allows you to share your favorite music with others. Click on the triangle between two thumbs and the following list will appear:
Menu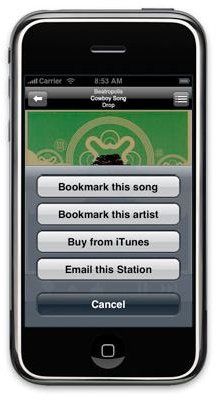 You can bookmark the song or artist for your own use – to remember to buy it from iTunes or to check out other songs by the artist. You can buy it on iTunes directly through the Pandora app. Or, my personal favorite, you can email the station to a friend. My country music loving pal in Ohio loves when I send my System of a Down and Foo Fighters stations to him! Good times…
Even on the Edge network, Pandora rarely hesitates or pauses in the middle of a song. The quality is very good – better than most terrestrial radio stations. The transition from song to song, from my experience, takes about 2-3 seconds, which isn't bad at all.
Overview
With a company that reportedly employs 99% former musicians, it is not surprising that Pandora Radio caters to the music-enthusiast with its free music and easy-to-use interface. The only threat that I perceive is that of advertisements within the app. It's tolerable right now, and you can exit out of the ads, but Pandora will have to guard itself against increasingly intrusive ads. I would fully recommend this iPhone app for anyone who likes to listen to free music on the go.