WhatsApp on Apple Store? Review of WhatsApp Messenger App for iPhone
WhatsApp Messenger - What is it, What does it do?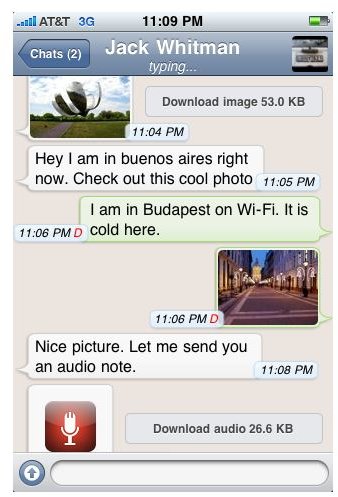 WhatsApp Messenger app for iPhone can be simply described as a smartphone to smartphone messenger that lets you communicate with your friends who are also using another smartphone including the iPhone, BlackBerry and Nokia smartphones. It lets you switch from SMS to WhatsApp's main function that allows you to send and receive messages, MMS such as pictures, audio notes and video messages at no extra cost. It works via Wi-Fi and 3G so you'll incur data charges only for connecting to your mobile provider. The app also utilizes push notifications to alert you of new messages from your friends, colleagues and family.
What's good about WhatsApp Messenger is that it uses your iPhone's existing Contacts List to communicate with your friends. This means that you don't have to create a new buddy list. All you need to do upon getting this app is to register your phone number. You'll receive an SMS notification once you register to activate your account. Once registered, you can communicate with any of your friends in your Contacts List who are using the app already. If they are not using the app yet, WhatsApp will let you send an invitation for them to download the app on their BlackBerry, Nokia or iPhone devices. This is a very important step since if you don't have a contact who uses it, WhatsApp Messenger app would be useless on your iPhone.
Another nice feature of the app is the facility for posting your online status. It's just like the predefined status updates you find in most IM Chat programs. This is an important and useful feature since you can be assured that your contacts will not disturb you while in a meeting, and you can alert them when you can't take a call or answer an SMS because you are about to board a plane. You can also disable the status any time you want to. Status length is a maximum 139 characters only, one character short of the maximum length of a tweet.
Our Verdict
For the major purpose of providing an alternative messaging app for your iPhone, WhatsApp Messenger for iPhone does its job well. It's easy to use and the interface is pretty simple. Add the fact that you don't have to create another online account and this app looks pretty good. If you're already finding the default iPhone messenger app a tad boring, you might want to grab WhatsApp on Apple App Store. It's currently free to download this app, so you might want to hurry before the developers start charging. If you have a BlackBerry device you may also download the BlackBerry version of the app from the App World.
Here's the download link from the iTunes App Store for your convenience.
Image credit
Screenshots courtesy of author (iTunes Download)