iPhone App Reviews: StumbleUpon for iPhone App Review
What is StumbleUpon for iPhone?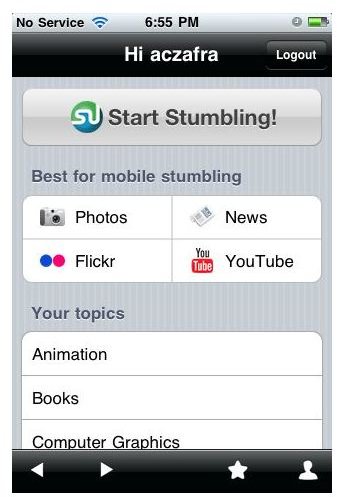 First things first. I've used StumbleUpon before when it was still only a web browser plug-in or toolbar of sorts that worked as a site recommendation tool. In case you have not used StumbleUpon before, it works like Digg and other social recommendation tools. You create an account, and then from your account you can start browsing and reading websites suggested by StumbleUpon's engine randomly. When you encounter a particular site that you want to bookmark you can easily "stumble" the site and it will be automatically shared to your StumbleUpon network. Recommending sites also makes them more visible in the StumbleUpon site network.
For its application, StumbleUpon for iPhone carries the same function as its web browser counterpart. Meaning, it lets you stumble sites even while on the go. So, the next time you feel like discovering new websites while waiting for a meeting or an event to start, you can make your waiting time productive by firing up the app, discovering new websites and recommending interesting and useful sites.
When recommending new sites, the app uses your browsing history. Hence, the more you stumble new sites, the more relevant the sites that the app will recommend to you.
What are the Features of StumbleUpon for iPhone?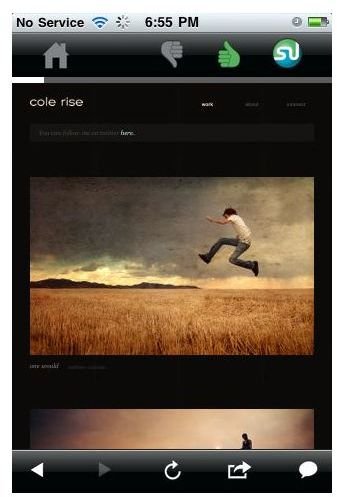 What you will appreciate about StumbleUpon for iPhone is the simplicity of the app. Its main screen gives you a pretty straightforward interface with the "Start Stumbling" option displayed right smack on top of your iPhone's screen. Once you hit this bar, the app immediately loads up new sites for you to give a "thumbs up or thumbs down." The app also lets you discover specific sites with specific contents including Photos, News, Flickr and YouTube. This is very useful if you already know what type of sites you feel like discovering at a certain moment. You can also discover sites based on general topics such as Animation, Books, Computer Graphics and More. You can add more topics to browse or change existing topics by visiting StumbleUpon.com on your iPhone's Safari Mobile Web browser.
While discovering and browsing websites, you can share this via your Stumbler account, Email, Facebook, Twitter and Safari. You can also follow other Stumblers to discover more great sites discovered by other StumbleUpon users.
Our Verdict
StumbleUpon for iPhone is a free app and it only consumes 1.7MB of your iPhone's storage. So, if you like discovering new sites to read and follow, this app will let you do so even while on the go. If you're not into this kind of thing, now may be the right time to get on board and start discovering great websites. There are gazillions of websites out there. Scouring through them one by one without the help of a site discovery tool such as StumbleUpon will leave you drowning in a vast sea of information. StumbleUpon for iPhone aims to throw you a lifeline and let you maximize your mobile web browsing experience on your iPhone.
Obviously, we highly recommend this app. Here's the download link.
Image credit
Screenshots courtesy of the author (iTunes Download).