5-O Radio Police Scanner App for iPhone
Concept (3 out of 5)
The concept behind 5-o radio is quite simple. It is a police scanner for the iPhone. If you are unfamiliar with the concept of a police scanner, it is essentially a program which allows you to listen to police radios. In addition to police radios, 5-o radio allows you to listen to fire and EMS radio and other types of rescue and law enforcement.
5-o radio also offers several additional bonus feeds and even top music feeds making it extra useful. One of the best things about 5-o radio is that the police and fire feeds are not limited to the USA, they are based in several different regions throughout the world.
To find out how 5-o radio performs read on.
Functionality & Content (4 out of 5)
5-o radio performs beautifully. The applications loads quickly and presents you with an easy to use interface. The first page displays a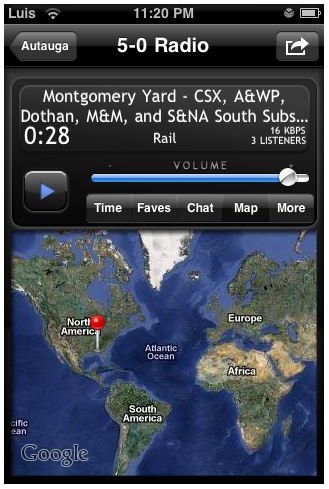 list of available options. These include things such as Browse Scanner Feeds, Top 100 Scanner Feeds, Top Music Feeds and Bonus Scanner Feeds.
5-o radio is primarily a radio scanner and it does an outstanding job. Clicking on Browse Scanner Feeds presents a list of supported countries. These include the United States, Canada, Australia, Chile, Italy, Japan, United Kingdom and Germany. The wide list of supported countries is something rarely found in a scanner for the iPhone. Another area where 5-o radio truly shines is in the actual functionality.
When listening to a radio feed you can view the location on a map, add it to your favorites and even chat with other users about it. These are all nifty features which supplement a very large selection of available radio streams throughout various states, counties and countries. The extra content such as the music stations is a nice bonus. It comes in handy when in the car if you decide you are done listening to a police radio, you can quickly switch to a music station without having to use a different app.
Streams load very quickly in 5-o radio, especially over Wi-Fi. Performance over 3G was great and Edge was variable but worked.
Conclusion (4 out of 5)
5-o radio is definitely not the first police scanner radio for the iPhone and it certainly won't be the last. It does not bring anything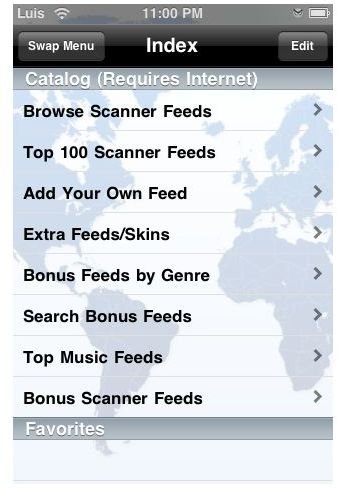 particularly revolutionary to the iPhone or change any experiences so drastically that it deserves a ranking of excellent. 5-o radio does however bring a stable and easy way to listen to a wide variety of fire, EMS and rescue radios directly on your iPhone.
The addition of some live music feeds is a good thing and support for several countries is also a big plus. Coverage within the USA is excellent. 5-o radio does a great job at what it advertises and comes at a very reasonable price of $1.99.
5-o radio can be downloaded via the iTunes AppStore (here).
If you are interested in more iPhone law enforcement apps check out this article: Reviewed 4 iPhone Apps for Law Enforcement. Also take a look at the Best iPhone Internet Radio Apps.