Zillow Real Estate Search for iPhone
Zillow Real Estate Search (5 out of 5)
Zillow Real Estate Search is an iPhone application which aims to make your house search easier. Integrating the GPS function into your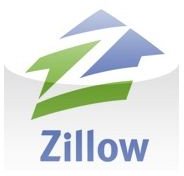 home search will make it easy to find houses around your location and even get estimates about properties in a given neighborhood. Zillow Real Estate puts a new spin on driving around looking for a house.
Zillow can be used without the GPS function. Scrolling, zooming or searching the map will enable you to see houses for sale in a given area. Zillow Real Estate provides you with information to help make your buying decision even easier. Bringing all of the information about the house and neighborhood directly to your iPhone, photos included. The best part about the Zillow Real Estate Search app for the iPhone is that it is completely free to use.
Functionality & Content (5 out of 5)
Zillow Real Estate Search does a lot more than just present a good idea, it delivers rich content. Zillow is not only easy to use but jam-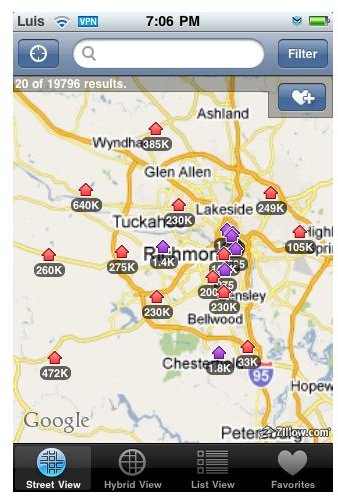 packed with just about everything you will need when searching for a house.
Upon launching Zillow you are greeted with a map of the immediate area around you. The map is plotted with houses and just below the little house icon you will find the price of each. Houses are listed in red (for sale) or purple (for rent). Tapping a particular house will bring up more information about the house. You will be presented with the address of the house, price (or rent), how many beds and baths and of course the type of house and square footage.
Tapping the information will bring you to a new screen with even more details. Here you will find more information including year built, lot square footage and even the option to save it to your favorites or contact the owner. Zillow Real Estate Search does a great job at provided "Zestimates" which are the estimated market value of the home as determined by Zillow. A graph is even listed with the changes in the home value over the past year, five years or ten years. Zillow provides even more useful information such as the last date sold, the price and even the property tax for the year.
If the above was not enough, Zillow continues to impress with a detailed description of the property. Direct contact forms are also provided to contact the owner or the agent. Zillow will go on to present recent sales which are comparable to the one you are currently viewing. Zillow literally provides every detail you could possibly need when purchasing or renting a house.
Conclusions About Zillow (5 out of 5)
When using your iPhone to aid in your home search, whether it be renting or buying, there is nothing better than Zillow. This application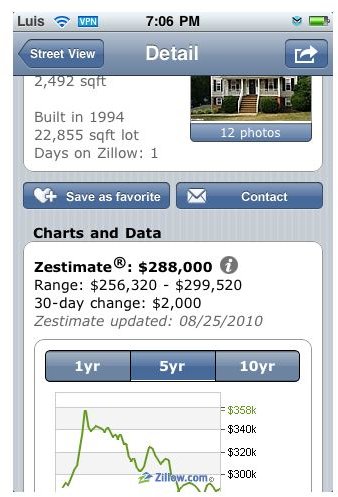 provides a solid and easy way to search for properties, get details about properties and even contact the owner and agent.
The huge wealth of information provided makes it your one-stop resources. This is a great way to scout out homes by value and neighborhoods, and you will almost certainly find exactly what you are looking for. Zillow Real Estate Search is not only the best iPhone app for your real estate search but it very well may be one of the best tools period.
Zillow can be downloaded on the iTunes AppStore completely free (here).
Fore information about the iTunes AppStore on the iPhone and, read this article here: Introduction to the iPhone AppStore.