MiCoach iPhone App from Adidas
Concept of miCoach (5 out of 5)
miCoach is designed to be an all in one coaching and tracking iPhone fitness app. What this essentially means is that you will be able to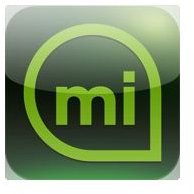 input your body statistics and miCoach will help you to meet your workout goals and stay in shape.
miCoach uses all of the features of the iPhone to create a seamless experience. Using the GPS unit and the voice output, miCoach is able to both record what you are doing and interact with you in an easy manner. This app is designed to be the ultimate workout assistant and eliminate your need for a traditional training coach or traditional fitness tracking methods.
Aside from just being a great iPhone fitness app, miCoach offers both fitness coaching and tracking which is hard to find in other iPhone fitness apps. Best of all, miCoach is completely free.
Functionality (5 out of 5)
miCoach does exactly what it promises to do and quite a bit more. Upon starting miCoach you will be asked to create an account with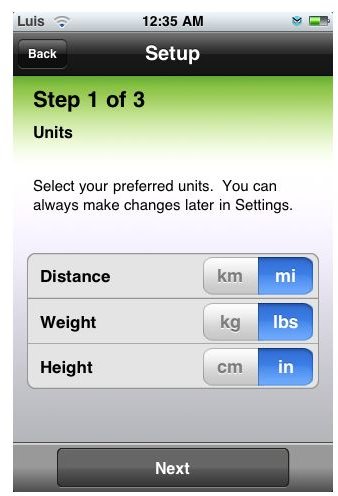 Adidas miCoach, creating this account will allow the program to track your workouts and also allow you to create custom workouts.
Once you have created your account you will be taken to a simple but elegant interface. There are four options to choose from, Go, Track, Explore and Settings. Go is the way to initiate a new workout. Choosing go will allow you to start a workout in free mode or launch an assessment workout. Once you choose a workout type you will have the option to pick a music playlist, turn voice coaching on or off and enable or disable GPS. Choosing next will then determine your current location and begin the workout.
As you workout, miCoach will provide you with voice based feedback and coaching to maximize your performance. Imagine having a personal coach by your side all the time, that is exactly what it is like to use miCoach. Choosing Track from the main screen will allow you to view all of your workout history, achievements, your shoes that are logged into the system. You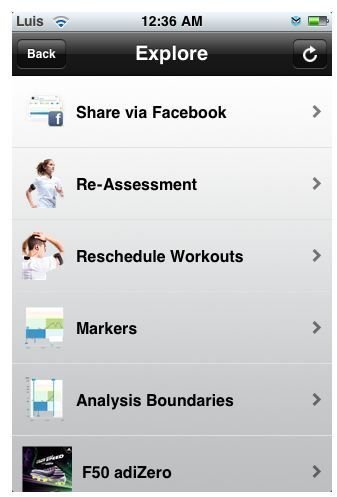 can track the total distance traveled in each pair of shoes, a handy feature.
Choosing Explore will allow another array of options. Options such as sharing your workout stats via Facebook, Rescheduling workouts, adding markers to your stats and viewing information about the latest Adidas shoes. There are also the occasional tips and articles about working out and how to maximize performance.
Settings will allow you to update some basic settings. You can change how often miCoach updates you, typically this occurs every mile. You can also change the information that it supplies to you. Other options can also be changed such as the types of units used to measure distance and weight.
The Final Verdict (5 out of 5)
In the end miCoach is not only an outstanding iPhone fitness app, it is an outstanding coaching and tracking fitness app for the iPhone. The handy voice updates and GPS functionality make miCoach one of the best ways to take your workout to the next level using the iPhone.
Tracking is such an easy and simplified process with miCoach that you will never want to go back to any other method. Information is stored in a nice format and workout history details are clear and decisive. When working out the miCoach app updates you every mile vocally to inform you of distance, time, calories burned and other essential information. miCoach supports several different languages including variations of English and Spanish.
When it comes down to it, miCoach offers more functionality than many paid iPhone fitness apps at a much better price tag: free. It is hard to compare miCoach to other iPhone fitness apps because none of them have all of the features of miCoach with the same ease of use and they aren't free. miCoach is a great fitness app for the iPhone and nobody should be without it, especially because it's free.
miCoach can be downloaded for free from the iTunes AppStore (here). For more fitness apps check out this guide on How to Build Up Your Fitness Routine With iFitness. Also take a look at this review of the Free iPhone App Workout Lite.