Review of VEVO App for iPhone
Concept (4 out of 5)
Vevo enables users to browse and watch music videos directly on the iPhone. While Vevo may not seem like an original concept, it

certainly is an original concept on the iPhone. Many users rely on YouTube to watch videos on the iPhone but with Vevo, it's much easier.
Vevo brings all the latest and the greatest from the music world directly to your iPhone. Not only can you watch a video but you can build a playlist of music videos. Vevo provides a great way to see and hear the latest music videos on the iPhone without the hassle of having to dig through YouTube videos and user-created junk. Vevo presents high quality music videos in an easy to use manner. The best thing about Vevo is the price: free.
Functionality & Content (5 out of 5)
To put it quite simply, Vevo is great. The interface is very well laid out and quite easy to use. On opening the app you are greeted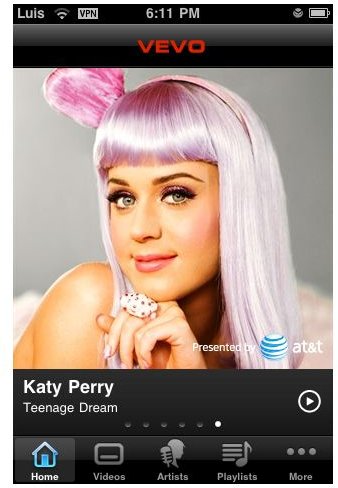 with a slide show of the latest artists and videos available on Vevo. Tapping one will take you directly to the video. Looking down below the eye-catching art work you will find the navigation bar for Vevo.
Choosing "Videos" will bring you to a list of the top videos. You can also sort the videos into premieres and new. Search is also available if you know exactly what you are looking for. Tapping an artist/song name/video will bring you directly to the live video. Some videos have a short ad before them but that is to be expected of a free service and is hardly worth being concerned about. Upon ending a video or exiting a video you will be presented with a list of suggestions for similar videos, the option to view comments and the option to purchase the video in iTunes, share the video or add it to your playlist.
Choosing "Artists" at the bottom of Vevo is similar to "Videos". It will bring you to a sortable list of artists. Choosing "Playlist" will bring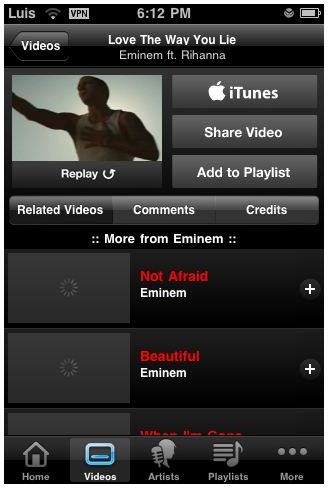 you to a list of pre-made playlists. These include things like "Hot Videos", "Blah!Mood", "Summerlicious" and several others which are sure to be worth watching. You can also view the charts and staff picks from the playlists tab. It is possible to manage your own custom playlist as well.
Vevo even has a handy feature under the "More" tab called Nearby Videos which will locate videos that were recorded or shot close to your location. Overall content in Vevo is great. It appears that Vevo has managed to obtain licensing rights for many major artists and videos include artists such as "Drake", "MGMT", "Katy Perry", "Usher", "Enrique Iglesias" and many more. There is a very diverse selection of music and it is sure to fit the needs of everyone.
The Verdict (5 out of 5)
Vevo deserves a rank of "Excellent" because of the large selection and the ease of use. Even better is that Vevo is completely free to download. Music lovers who own an iPhone should look into Vevo without hesitation. Vevo makes it much easier to enjoy the wide selection of music videos available without the hassle of having to find them on YouTube. Music videos have good quality and they are quick to load and playback (dependent upon your connection). Vevo worked great over both 3G and Wi-Fi.
Vevo can be downloaded for free from the iTunes AppStore (here). Music lovers should also check out The Top Ten Music Apps for the iPhone and this Guide to Free Music on the iPhone.