OffMaps for iPhone Review
The Concept (4 out of 5)
OffMaps is a simple concept, designed to bring you access to maps without an Internet connection. It can be used to view maps of the US or international maps on your iPhone. This makes it great for international travel and for tourists in general.
The app also brings detailed guides of many different counties, cities and towns throughout the USA and internationally too. This can be particularly handy for both international and national travel as there may not always be Internet connections available. When Google Maps fails to work because of the lack of Wi-Fi or a data connection, OffMaps continues to display beautiful pre-downloaded map information.
Functionality & Content (3 out of 5)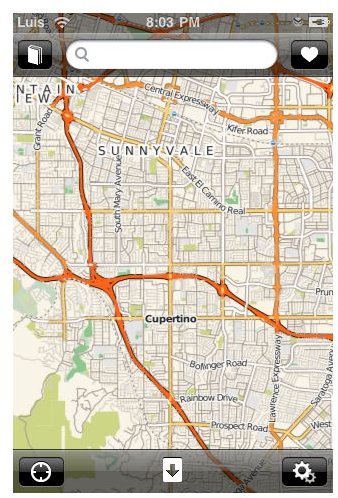 This app scores high in the content category but lacks in functionality. The overall design is quite good but something about the execution makes it seem like it could just be better. The interface is sluggish, maps are slow to update when you scroll and sometimes they simply do not work!
Upon opening OffMaps you will be presented with your current location and a map of your present surroundings. You can choose a new location by searching. Tapping the "Download" icon in the bottom center of the screen will open the download menu. You are presented with the option to download a custom area or download a map of an entire region. Regions include areas inside of Africa, Asia, Australia and New Zealand, Europe, North America, Oceania, South America and of course the USA. The notable lack of Central America will be a big issue for some.
Choosing a continent will bring you to a region selection screen. Choosing a region will then present you with smaller sub-regions.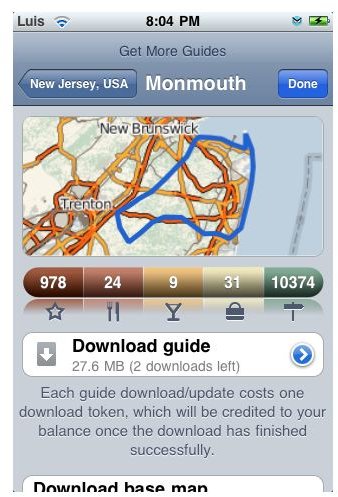 Choosing one will present you with the download size and enable you to download it. There is also the option to download "Guides" by selecting the download icon in the upper left corner. These guides are downloaded in a similar fashion to the maps and contain vital information about the area, businesses and even landmarks. They are particularly handy for traveling and tourism.
OffMaps for the iPhone boasts a decent amount of settings and customization. Things can be adjusted such as "Cache management" options and display settings. Miles can be changed to kilometers and other similar settings. None of these settings make a big impact on the speed or reliability of the program though, which is very unfortunate.
Final Words (3 out of 5)
This is a decent idea but it could have been executed much better. The interface feels bland although it is functional. There is plenty of content available between the maps and guides although the lack of Central America (completely) is quite disappointing. Using it within the USA and Europe is a fair experience.
The biggest problem with OffMaps isn't the idea or the content. It is the fact that it runs so slowly on both the iPhone 3G and the iPhone 4. It lacks start speed and has a very slow response when dragging the map around, something Google Maps does not have any problem with. It is a decent application but it still feels like a hassle to use. While it has a lot of potential, for right now it can't be considered anything better than average.
It can be purchased for $1.99 in the iTunes AppStore.
For some ideas on alternatives take a look at The Best iPhone GPS Apps.
References
App Store, https://itunes.apple.com/us/app/offmaps/id313854422?mt=8