LogMeIn Ignition iPhone Review
About LogMeIn
LogMeIn is a service which allows users to remotely control and monitor a computer. Computers can be monitored via an online web

client which works through Java enabled browsers. LogMeIn offers both a free and paid version of the service, which work equally well. LogMeIn is an outstanding tool for home users, network administrators and even other tech personnel.
LogMeIn ignition is an iPhone app which enables access to the LogMeIn service. LogMeIn Ignition enables full control of a remote desktop directly from the iPhone using the touch interface. LogMeIn subscriptions can be obtained on the LogMeIn Website for free by simply registering and choosing the free option.
Pro memberships vary in pricing depending on the number of computers. An annual subscription for a single computer with LogMeIn Pro costs $69.95 for the year.
LogMeIn Ignition: Interface (5 out of 5)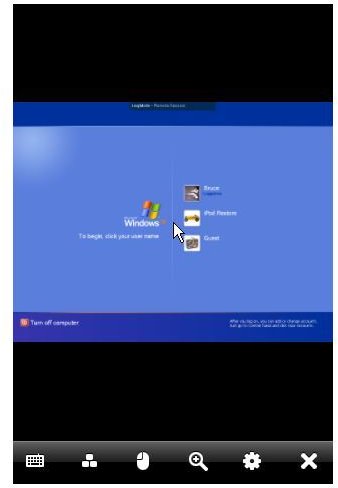 There are many issues that arise from cramming an entire desktop onto a tiny iPhone screen. LogMeIn Ignition does a brilliant job at handling this task with a superbly designed interface. The desktop is controlled entirely via a touch interface which works exactly as expected. Swiping will scroll the screen while clicking will cause a mouse click. Right and left mouse clicks are differentiated with a toggle button at the bottom of the interface.
The keyboard can be activated by tapping the keyboard icon. LogMeIn Ignition utilizes the standard iPhone keyboard to capture and send text to the remote desktop. Special function keys and key combinations such as CTRL+ALT+DEL and ALT+TAB are also accessed via special menus on the interface. Overall the LogMeIn Ignition interface does an outstanding job at making a full size computer usable on a small iPhone screen.
LogMeIn Ignition: Functionality (5 out of 5)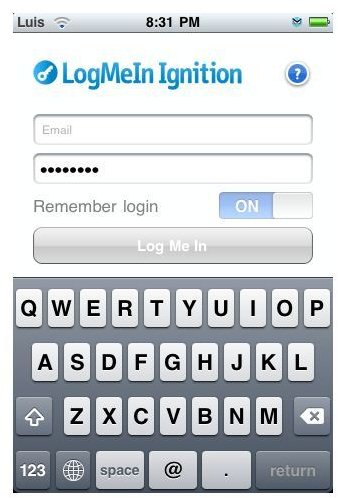 LogMeIn Ignition works just as well as one would expect or better. The interface makes it easy to access all of the functionality that is crammed into this wonderful iPhone app. Support for multiple computers is built into the iPhone app which makes switching between devices easy.
LogMeIn Ignition allows users to interact with the desktop as if they were sitting in front of it. Support for both left and right mouse clicks, keyboard and even special key combinations makes this iPhone app a true solution for controlling a remote desktop. The only functions that were not ported over from the desktop version of LogMeIn were the file transfer and the chat option but they are hardly necessary. Overall LogMeIn Ignition offers a feature set that has yet to be surpassed by another iPhone remote control app.
(5 out of 5)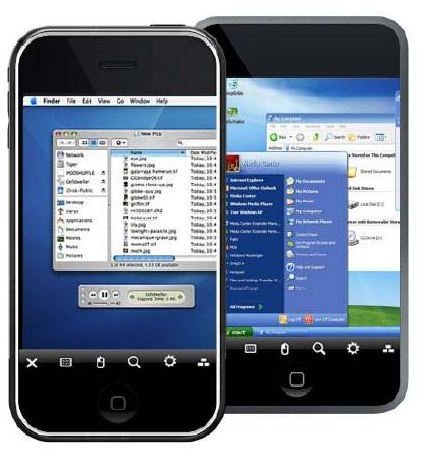 Overall LogMeIn Ignition is one of the best, if not the best iPhone application for remote controlling your desktop. Due to the functionality and ability to control multiple computers the possibilities with LogMeIn Ignition are truly limitless. The application can be used to check on the status of a download from across the room or to check your email from across the world.
There are not many other remote desktop control alternatives on the iPhone that can duplicate the functionality of LogMeIn. The service is both incredibly reliable and easily accessible. The LogMeIn Ignition application can be purchased on iTunes (here) for $29.99.
For a full review of the LogMeIn Service check out this Review.