Battery Doctor Pro for iPhone Review
Power Is Always A Problem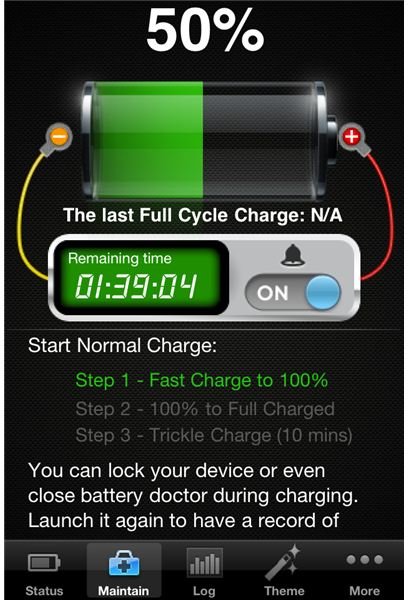 The eternal struggle that engineers have been dealing with since we decided we wanted electronic devices sans wires is how to power them. The battery changed things, allowing us to use devices anywhere without an available plug. Rechargeable batteries took that one step further, allowing us to re-use the same battery again and again and again, with very little change in power capacity. However, that little downfall still remains. Reusable batteries, like those in the iPhone, slowly lose their luster depending on how often the device is used and how often you completely recharge it.
For a device that is not only used as a phone, but also as a web surfing device, a music player, and a gaming device, the iPhone performs admirably when it comes to battery life. Still, it isn't without its faults. There are still those who complain about the iPhone's battery having too little capacity, or claim that it fails to recharge completely each time.
App developers caught wind of this problem, and introduced a new app market that we had never seen: battery apps. These apps claim to do many things, such as charging your device quicker than is standard, and some even claim to help restore the original battery capacity of the device.
Battery Doctor Pro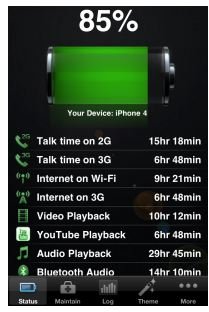 One such app is Battery Doctor Pro, a 99 cent app that claims to do a few things to help you make the most efficient use of your battery charge. The app has a built-in charging calendar that keeps track of all the charges you do with the app active. The app uses two distinct charging modes: quick and full. When you quick charge, the device is charged much like it would be when charging normally. However, when your battery life falls below twenty percent, you can use the Full Charge option. Using this method, you leave your phone plugged in until it is charged completely, and then the app applies something called a "Trickle Charge" which is meant to increase the capacity of a battery that has seen better days.
After using the app while charging for several nights, my iPhone did seem to lose its charge less quickly, and I found that I was able to listen to a few more hours of streaming radio on it before needing to recharge it again. However, there are so many different factors that determine how long you charge will last that it is hard to know if the app was to thank or if it was some other unseen factor.
Overall, the app is worth at least a buck. It provides a list of how long you have left to do different tasks on your device, and since you can customize your charging screens with cool pictures and effects, its dollar price-tag will seem rather small in relation to the value the app provides.