iPhone App Reviews: Craiglist Pro for iPhone
Craigslist Pro - What is it?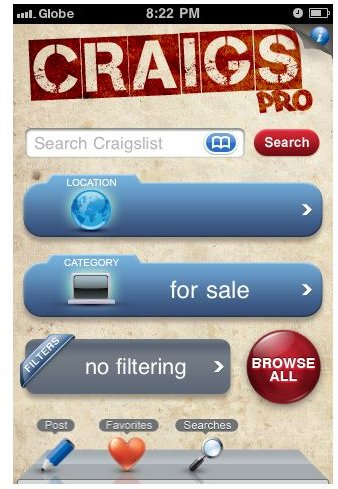 If you are a regular visitor of Craigslist' site, then you'd want to have the iPhone app Craigslist Pro. Offering almost all the essential functionality and information that the website offers, Craiglist Pro is the best Craiglist browser offering tons of features and options that would help you out in finding the right ads that would answer your job needs. The app lets you search for job ads in multiple cities and then preview the different results in thumbnail photos with item descriptions before you decide to check out each one of them using the app.
In addition to being a job and classifieds ads search engine, Craigslist Pro is also a platform for you to post your own ads. It also lets you manage these ads, allowing you to repost, delete, undelete, and edit posted job or classified ads you've posted. The app also allows you to add photos to your ads using your iPhone's camera or photos stored in your iPhone's photo album.
Craigslist Pro - What Does it Offer?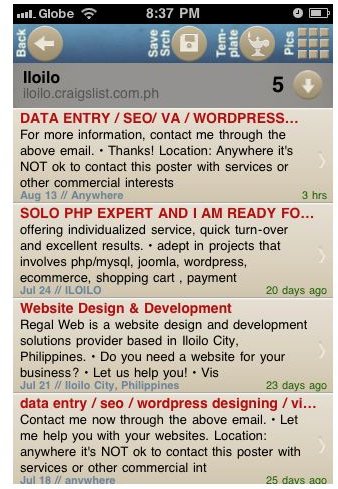 Enumerating the many features of Craiglist Pro might take us some time. So to keep this review short and sweet, let me just give you the major features of the app when it comes to searching and browsing the search results.
Craigslist Pro is a very powerful jobs and classified ads search engine that culls information from Craigslist's huge database of constantly updated jobs and classified ads database. It allows you to search the archive of saved searches and repeat any of the search queries you've previously used to see if new items have been posted. The app employs a system which tracks saved searches you conducted previously and gives new matches to the query. To find out whether an item is new, you can see an indicator alongside those new matches.
Craigslist Pro also lets you email interesting postings to either yourself or your friends using the app's built-in email program. You can also easily contact posters of specific ads using the Reply option. You can also personalize your Craiglist experience using color templates.
While using the app and you've stumbled upon some postings, you can share them with your friends using the embedded Twitter engine.
One of the best features of the app is the 20+ enhanced search options that you can use within the app. This is very helpful in finding the right job information from the sea of listings posted on Craigslist every minute. To further help you with your quest to finding the right job, Craigslist Pro lets you sort your search results by date, match, or price. You can even further narrow down your search down to the specific neighborhood if you are searching for jobs in specific cities. To help you easily contact the person who posted the job or classified ads, the app detects phone numbers embedded in postings so you can immediately call them using your iPhone.
Another nifty feature of the app is the use of Google Maps for finding out where the posted items are located and even to retrieve directions on how to go to that location.
After running your search and getting relevant search results, you can save each of these postings to your Favorites list. You can easily check this Favorites list any time you want to. And if you have contacted the person who posted a particular job or classified ads, you can annotate the postings you saved on your Favorite list so you'd know later on whether you have contacted the contact already or not.
If those features are not yet enough to convince you to get this app, how about if we tell you that the app also has a "Best of Craigslist" category. What makes this category special is the fact that it contains Craigslist postings which are hilariously entertaining.
Our Verdict
Obviously, we fully recommend this app whether you are a frequent Craiglist visitor or not. With its many features and the large amount of information that you can get from within the app, what more can you ask for in an iPhone app that costs only $0.99? Get this app now and use it to find jobs, great service deals and other useful information. Here's the iTunes Download link.
Image credit
Screenshots courtesy of author (https://www.itunes.com/downloads)