iPhone App Reviews: This Day in Music Review
This Day in Music - What is it?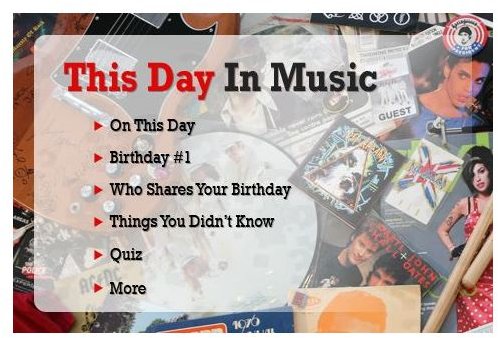 To put it simply, This Day in Music is an iPhone music trivia app which could serve as your daily guide to the facts, figures, dates, times, places and artists that contributed to pop and rock music history. It contains more than 5,000 music facts and exclusive images related to the music industry. It's the perfect app for music fans, no matter what age or gender they are.
The app is divided into five categories - On this Day, Music Quiz, Birthday, Which Stars Share your Birthday, and Things You Didn't Know. Briefly, here are what each of these categories give you:
On this day - provides you with daily music facts, 365 days all in all. The app automatically adjust every day and also lets you to browse future and past dates to find out what are the most important musical events that happened on those days.
Music Quiz - tests your pop and rock music knowledge. Just to warn you, this one is very addictive as you try to answer as many questions correctly as possible.
Birthday #1 - if you are curious to know what song hit the number one spot on your birthday, this category will provide you with that information. Simply scan through the days and you'll also find out which musical star was born on each day.
Which Stars Share Your Birthday? – what if you want to know which music stars share your birthday? This category will give you that information.
Things you didn't know – impress your friends with obscure music facts and information.
This Day in Music - Presentation and Lay Out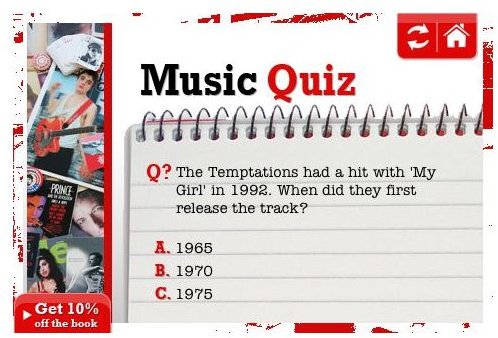 The app's interface is simple and yet pretty effective. You simply tap on the different categories and tap on the navigation arrows to go back and forth through the bits and pieces of music information. Each of the pages of the app contains the navigation buttons at the upper corner of your iPhone's screen - representing a home icon, forward and backward arrows.
The overall theme of the app is very well designed. The interplay of text menus and the background images emits the essence of pop and rock music culture. Somehow it reminds you of vinyls and records that are part of the music industry. The dual colors of the text menus (red and black) suits the app's theme perfectly.
Our Verdict
This Day in Music is available from the App Store for $2.99. The abundance of music information that you'll get from the app is certainly worth the price you have to pay to get this app running on your iPhone. The app is for music lovers which is tantamount to saying that it is for everyone. We are all music lovers, right? So, anyone will love, or at least like, and enjoy this app.
One thing that this app lacks which would be pretty obvious the first time you fire it up is a music background. It's a music trivia app and it would have been great to listen or at least preview some of the songs that are featured in the app. Or even better a direct link to purchase the songs. Ideas for the next version perhaps?