What's it all about?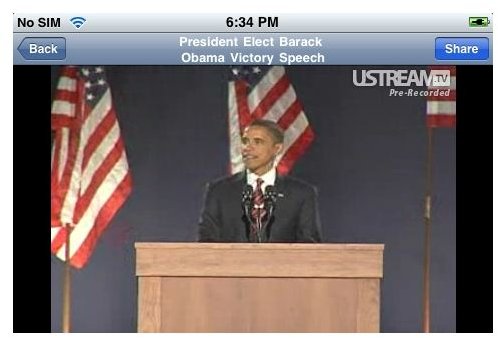 Unless you're completely new to the internet, you'll already be familiar with live streaming video sites. Ustream.com and Justin.tv are the two largest, and they can bring in hundreds and thousands of viewers for their live programs that are always running, 24 hours per day. Each of the programs are completely user-created, with many people hooking up cameras to outdoor areas for nature programs, video game systems, or even African safaris.
The beauty of sites like this is that anyone can participate. If you want to comment and chat with members of the show you can log in right through the site, and you can even start your own broadcasts with just the click of a button.
After seeing the popularity in sites like this rise exponentially, they finally made their way to the iPhone App Store. Ustream Viewer was the first to hit Apple's device and it was met with quite a bit of criticism. Many people complained about the resolution, the comments system, and the ability to find broadcasts they know and love.
It's Ustream… or is it?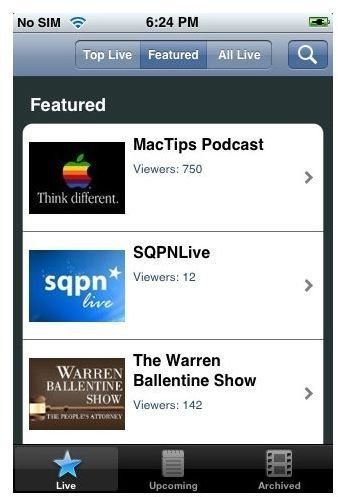 Yes, the Ustream Viewer application for the iPhone and iPod Touch is the closest you're going to get to the full Ustream experience on your device. However, that doesn't mean it's not without its problems. In fact, I'd even go so far as to say that the app needs quite a bit of work before it is something that can be recommended at the same level as the Justin.tv app.
The main problem with the app is the channel selection. The best part of logging on to Ustream is finding new and cool channels to explore. Unfortunately, the app limits the channels to just those on the "Featured" or "Top Viewers" lists. This is completely arbitrary and with live shows like 'Owl Box' (a 24-hour live camera on an owl nest, no lie) eating up precious spots on the lists, it's hard to find anything new or original.
Add to that the fact that since the iOS4 update the app has some serious stability problems, and all you have is a neutered version of a popular website, that can't be watched through your mobile browser because of Apple's restrictions on Adobe Flash.
The Ugly Duckling
It would be easy to excuse the faults of the Ustream Viewer due to the fact that it is 100% free. Sure, don't look a gift horse in the mouth, right? And yes, there are a handful of programs that are worth watching. Still, with other live video streaming apps out there doing a much better job, for the same price of $0, it's hard to give it a free pass.
If there is a program on Ustream that you enjoy, you may as well give it a download and see if you're one of the lucky ones to have a show you enjoy supported by the app. However, once you find that your favorite late-night video game broadcast simply isn't supported, there's little reason to return. We can only hope that some day soon the app will receive a huge overhaul and go from the ugly mess it is now to the beautiful swan it really should be.