Gobyo Concept (4 out of 5)
The Gobyo iPhone app scores points for being very unique. Wine lovers will be easily delighted by the Gobyo iPhone app because it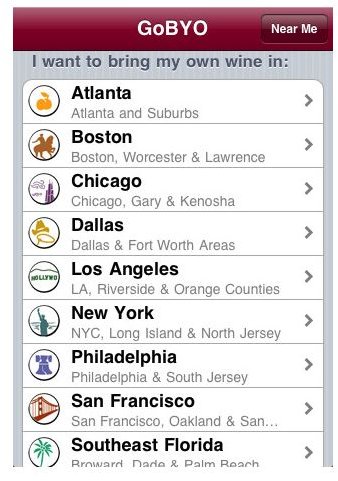 provides up-to-date information for restaurants which allow you to bring your own wine. The Gobyo iPhone app is similar to any other restaurant app for the iPhone in many ways except for the incredibly specific nature of the Gobyo iPhone app and very specific audience.
The concept is quite useful for wine lovers. Supporting many major markets and a wide array of restaurants, Gobyo is essentially a wine lover's best friend. Gobyo can provide useful information which was very hard to obtain in the past. Gobyo is the first application of its kind to truly offer a vast amount of information on the iPhone.
Functionality & Interface (3 out of 5)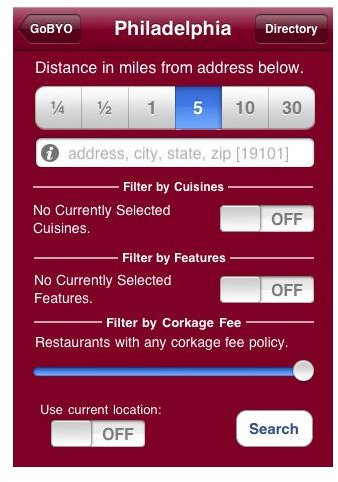 The Gobyo iPhone app offers a large selection of features, unfortunately in a very unusual manner. The interface is designed to be simple and easy to navigate however it has an overall clunky feel to it. Core functionality is present however and the Gobyo iPhone app does manage to present the data in a viable manner.
Upon starting the Gobyo iPhone app you will be asked which city you want to search for restaurants in which you can bring your own wine. Currently Gobyo supports many major markets such as Atlanta, Boston, San Francisco, Dallas, Las Angeles and several others. In total the Gobyo iPhone app supports searching within ten different markets. After selecting a city you are presented with several different ways to sort through the results.
In the Gobyo iPhone app, results can be organized by distance, corkage fee and several other variables. Sorting through the search results in distance works relatively well and the Gobyo iPhone app is capable of determining your current location or searching from a specified address. Restaurant results display plenty of information such as waiter service, cuisine type, price range, payment accepted, corkage fee and many other relevant pieces of information.
Conclusion (3 out of 5)
Concluding on the fact that the Gobyo iPhone app is both unique and functional, it is fairly safe to say it is worth the download for wine lovers. Individuals who are not interested in bringing their own wine to restaurants will most likely find little value in the Gobyo iPhone application. Wine lovers will be delighted by the accessibility of the information, current information and detailed information about each location, including the corkage fee.
Before downloading the Gobyo iPhone application it is advisable to read the iTunes description for a current list of supported markets since Gobyo does not have listings for every major city. Limited coverage and clunky user interface are the only two negative traits of the Gobyo iPhone app. Should you be fortunate enough to live in a market supported by the Gobyo iPhone app you will not be disappointed. The Gobyo iPhone app can be downloaded on iTunes (here).
For more interesting iPhone wine apps be sure to check out this article on 10 iPhone Wine Apps. Also check out this great article about Urbanspoon for the iPhone.
(Screenshots courtesy of CHS Systems, LLC)