Epicurious iPhone App Review
Epicurious iPhone App Review (5 out of 5)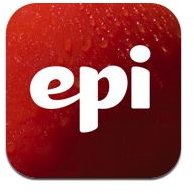 I was actually very impressed with the Epicurious iPhone application. I love trying out new recipes, and the application makes it ways to find new ideas and then gather together the things you need to make them. The app is compatible with both the iPhone and the iPad, making it possible to use it on-the-go with your iPhone and then have a larger screen in the kitchen while you're cooking.
Features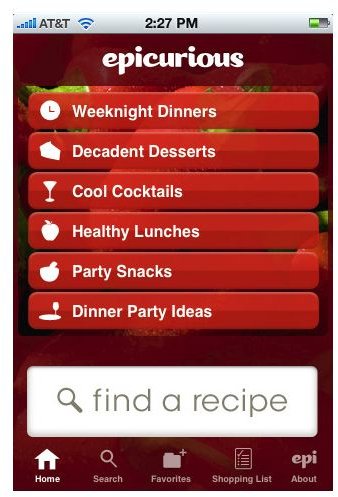 As far as recipe applications go, the Epicurious app is fully loaded with features to get you going. The application has 28,000 recipes for everything you could possibly imagine. You can search for a specific recipe, or you can browse through available options in some of the pre-set menus such as "Weeknight Dinners" and "Decadent Desserts." If you find a recipe that you like you can save recipes to your favorites list, e-mail a recipe to yourself (or a friend for that matter) or add the recipe to your shopping list. The shopping list functionality of the application allows you create a list of items you need at the store, and then cross those items off the list while you're shopping. This could be great when it comes to planning a weeks worth of meals. If you're trying to create a meal on the fly, the Epicurious app also has a way to create recipes based on what you have in your fridge.
Functionality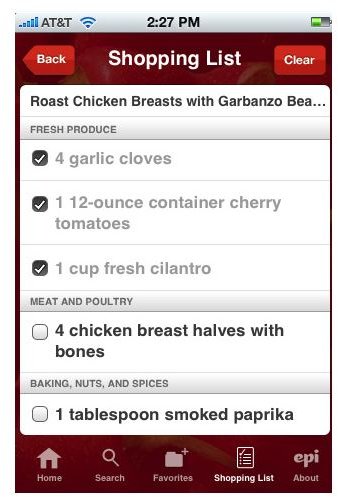 I absolutely loved this application. The interface is very easy to use, and I love the ability to plan and shop for several meals at once. I can see myself sitting on the couch on a Sunday afternoon and planning all my dinners for the week. With the application, shopping for meals is a snap. I typically end up writing down everything I need, and then having to look up a recipe while I'm shopping because I don't understand my notes. Having everything in the application in front of me is a huge time saver in and of itself, not counting the fact that with a virtual check list I'm less likely to forget something while I'm at the store and have to go back.
I also tend to "shop the sales," so if I found a great deal on for instance pork chops at the store, I like that I can do a search on my phone right there in the aisle and come up with a recipe to cook them.
Competition
There are quite a few recipe applications out there. What application is right for you will depend to some extent on what type of food you like to cook and eat. Most iPhone recipe applications have some cost associated with them, especially those that are focused on a particular type of cooking, and not as much functionality as the Epicurious application. If you're looking for new iPhone recipe applications, some other great options are McCormick's Recipe Finder, and What's For Dinner.
Conclusion
As far as iPhone recipe applications go, this one is a no-brainer. The application has tons of functionality, is exceptionally easy to use, and it's free to download. In my opinion, there's no reason not to download a copy. Even if you don't use the app for all your weeks recipes, you're bound to find a few ideas in the application that are worth giving a try.
For more ideas check out the Top Ten iPhone Cooking Apps.