MobiMote Windows Media Center Remote for the iPhone
Overview
MobiMote is an application which can be downloaded on the iPhone to control Windows Media Center on your computer. There is a free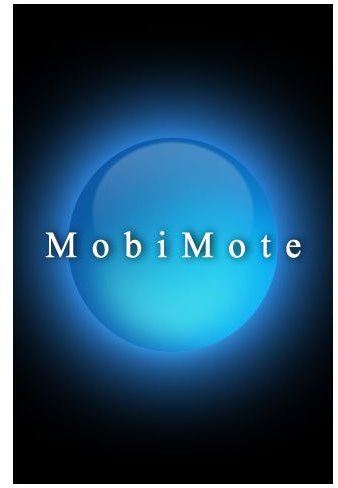 version of MobiMote which works very well and is easy to download directly from iTunes (here).
MobiMote is capable of controlling all versions of Windows Media Center, including Windows 7 Media Center. MobiMote uses a Wi-Fi network inside your home to communicate with the receiver software which is located on the Windows Media Center enabled computer. MobiMote mocks the functionality of a physical remote and features many easy to use shortcuts.
There are many advantages to using MobiMote over a physical remote including the fact that no additional hardware is required. MobiMote controls Media Center via Wi-Fi and not conventional IR like a normal remote therefore it is not necessary to have a direct line of sight or to be in the same room as the Windows Media Center computer to control it.
MobiMote Interface (3 out of 5)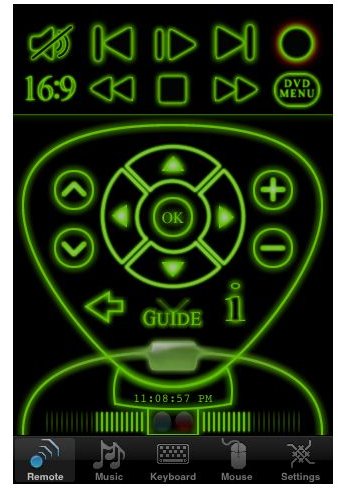 The MobiMote interface is designed fairly well and makes a decent attempt to be a complete remote touch-screen solution. Adapted specifically for the iPhone, the MobiMote interface features support for various gestures. At the top of the MobiMote interface, users will find all the quick shortcuts for things such as mute, stop/play, forward/rewind, record, zoom and the DVD menu. These come in handy when using MobiMote to control movie playback and music playback with Media Center.
Tapping this section of shortcuts and swiping it to the left will display a new line of shortcuts. These shortcuts include buttons to jump to music, video, pics, live TV and recorded TV on your Windows Media Center. The middle of the MobiMote interface functions in the same way with the swiping action. The first screen in the middle of the MobiMote interface features navigational arrow, channel up/down and volume up/down. Inside the direction buttons is the OK button which is very necessary for navigating Media Center. The OK button is very small and is hard to push without hitting the arrows in MobiMote. In addition, it is quite frequent to accidentally tap the wrong arrow when navigating because they are all so close together. This is quite annoying and makes it a little difficult to use MobiMote to control Media Center at times.
Swiping the middle display area of MobiMote to the left will reveal the number pad. The number pad contains the numbers one to nine plus an "Enter" key and a "." to make navigation easier. Below that is the infamous green button which will return you to the home screen of Media Center. MobiMote also displays a clock at the bottom which is handy since the clock on the top of the screen is covered by MobiMote.
MobiMote Functionality (4 out of 5)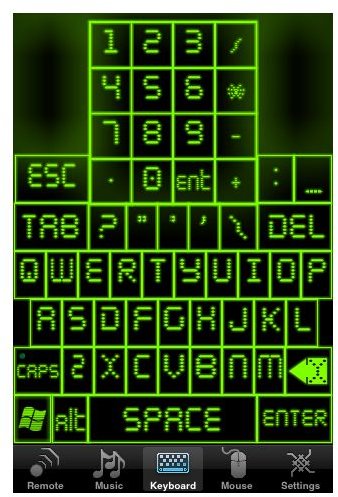 Despite the slightly flawed interface, MobiMote does present plenty of functionality. MobiMote is capable of controlling all aspects of Media Center and even features a keyboard and mouse function. MobiMote is dependent upon a piece of software to be installed on the desktop for it to function. Most Media Center remote programs will have the same requirement and therefore it is not considered to hinder the functionality.
MobiMote also offers a music tab at the bottom of the display which acts as a superior control for your music store on your Windows Media Center PC. MobiMote enables you to browse and control the music on your Media Center PC directly from your iPhone which is a very handy feature.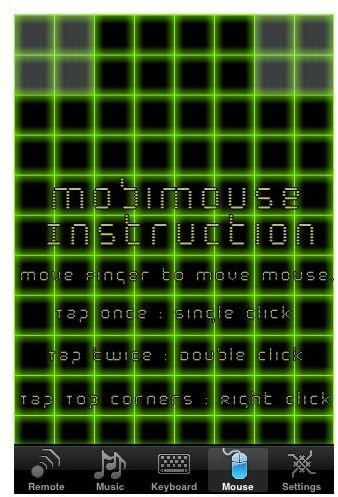 The keyboard tab in MobiMote enables you to send characters to your Windows Media Center as if it were a keyboard. This functionality comes in handy when using search boxes on Windows Media Center such as in the TV Guide or Netflix. The mouse function of MobiMote works just like any other virtual mouse pad. Simply drag your finger across the screen to move the mouse, tap the screen to click. The mouse in MobiMote is very responsive however it has a very "jerky" feel and seems to skip around sometimes.
Customization & Settings (2 out of 5)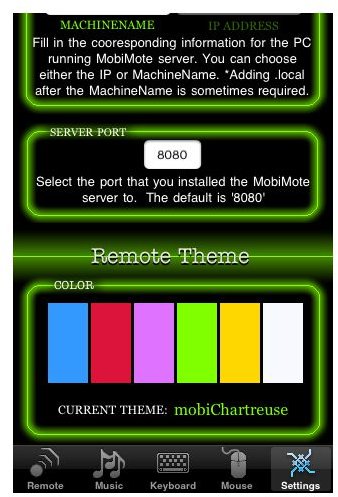 MobiMote does not offer much in terms of customization. There is no option to customize the layout of the buttons on MobiMote which is quite unfortunate. Customization is limited to changing the color of the layout of MobiMote. Changing the color is done by selecting one of six pre-defined colors all of which have a neon glow to them. MobiMote does look quite impressive when you change the color to either green or blue, the purple looks very nice as well.
Settings in MobiMote are fairly basic as well. MobiMote is capable of auto detecting the Windows Media Center computer over the network which is quite decent. Settings are limited to customizing the port and IP address of the Windows Media Center computer. There is no customization of startup options or anything like that.
Conclusion (3 out of 5)
Overall, MobiMote is just average. There are clear flaws in the interface of MobiMote and a clear lack of customization, however, it is hard to complain about a free app for the iPhone. MobiMote does a nice job at controlling Media Center over a Wi-Fi network and the keyboard and mouse controls are a nice bonus.
The bottom line is that MobiMote does make it possible to control your Media Center from your catch quite easily. No additional hardware is required and it is very easy to get MobiMote up and running on both the PC and the iPhone. MobiMote is one of the better free apps for controlling Media Center and it even out performs several paid apps for the iPhone. MobiMote may just be the perfect app to control your Windows Media Center from the couch or anywhere else.
Here is a great article about Media Center if you are unsure of what Media Center can do. Also be sure to check out Ten More Must Have iPhone Apps.
(Screenshots taken with MobiMote for iPhone)