Unusual iPhone App Reviews: Animated Knots by Grog
Animated Knots Overview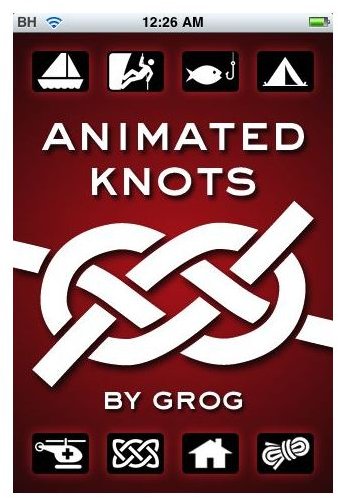 Animated Knots is an application for the iPhone which will educate you on how to tie various knots. There are many practical reasons to have an application like Animated Knots by Grog. Some users may find Animated Knots to be particularly useful such as Boaters, Climbers or even Boy Scouts.
Animated Knots offers several different categories of knots: Boating, Climbing, Fishing, Scouting, Search and Rescue, Decorative, Household and Rope Care. Each category is fairly self-explanatory and tapping on a particular category will launch a new menu filled with knots that belong in that category. In addition to the name of each knot, a photo is displayed to the left and a brief description below, detailing the function of the knot.
Animated Knots Functionality (4 out of 5)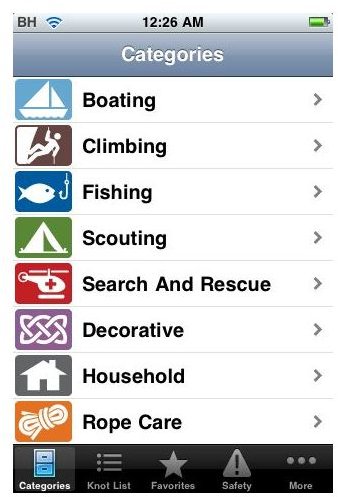 Tapping on a particular knot will launch into the knot screen. Animated Knots will automatically start a slide show which will typically consist of between four and eight steps. The slide show runs very fast making it quite hard to read the text below the images however the slide show does do a nice job at showing how to tie the knot with images. Click the forward and back arrows at the bottom of the screen will allow you to navigate the steps one by one at your own pace.
Reading the description and looking at the accompanying images will ensure you quickly and easily learn how to tie each particular knot. Animated Knots does a great job at explaining how exactly to tie each knot, occasionally adding in a little humor with the description. Images are close-up shots of the rope and illustrate exactly what to do in each step. In the bottom right corner of each knot screen, Animated Knots displays a star icon which enables users to favorite a particular knot.
Animated Knots Interface (4 out of 5)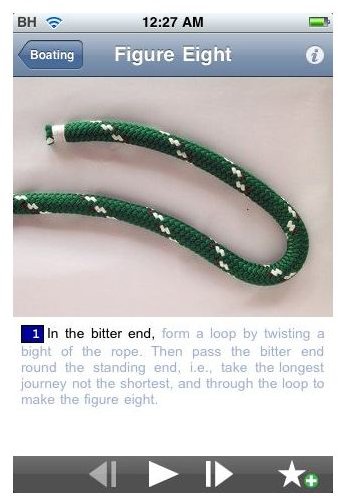 At the bottom of the main interface, Animated Knots presents users with five different tabs. These tabs are as follows: Categories, Knot List, Favorites, safety and More. The first tab is the default screen which was previously discussed above. The second tab, Knot List will display a complete list of all knots available within Animated Knots by Grog. The favorites tab will list all of the knots which you have added to your favorites list in the Animated Knots application. Safety is a brief overview of various warnings and safety information regarding the dangerous of ropes, importance of properly tied knots and the truth about rope breaking strength. The information contained in the Safety tab can be particularly useful if you do not have extensive experience with rope.
The final tab in the Animated Knots program is More. Tapping the More tab will display links to the Help page and the Acknowledgements page. This information is fairly standard and trivial. In addition the More tab displays the option to Tell a Friend which will enable you to notify a friend about Animated Knots.
Conclusion (4 out of 5)
Overall Animated Knots by Grog is a very easy to use and educational program. The display is well designed, instructions well written and the images are very clear. Animated Knots is a great program if you have any particular need to learn how to tie knots or have this information constantly available on your iPhone.
There is plenty of content contained in Animated Knots by Grog. Just about every major type of not can be found in Animated Knots with detailed instructions. Animated Knots can be downloaded via iTunes using this link.
Screenshots taken with Animated Knots by Grog, LLC for iPhone.
For more unusual iPhone apps be sure to check out this review of Magic Mover for iPhone. Also take a look at this article on the Fatbooth App for iPhone.