theChanner Review - iPhone TV Tuner
Feeling Sociable?
Social networking is a growing trend in today's society. Social networking mediums such as Facebook and Twitter allow people to connect with each other. The Apple iPhone is incorporating different types of social networking applications. These different types include gaming networks and collaborative communities. The iPhone also opens up video media with local and streaming media. theChanner has created an innovation that combines social networking and TV together. How well do these two elements combine with each other? Read on to find out.
Types of Media on theChanner
When I launched theChanner, I began looking for what types of media are present. It is important to emphasize the types of media you can expect to find. I have found that the videos that are featured are feeds that are typically found on the Internet. For example, NASA TV is present. It is available for free anywhere on the Web. I also found local news affiliates throughout the United States. For oversees, Sky TV is present. There are also Music videos and movies. Keep in mind that mainstream TV shows and movies are not to be found in the application. Otherwise, it may not meet the legal eligibility to stream (Apple would most likely end up rejecting the application, before it became available in the App Store). This is an iPhone TV app but the content is limited.
Tour of theChanner
TV list
The TV list has the following features:
Favorite – You can view all the channels that you have favorited.
TopTV – Shows all the top rated shows as voted for by all theChanner users.
Country – Sorts all channels by country such as the United States and United Kingdom.
Language- Sorts shows by the language that is available.
Category – Displays different types of media such as education, movies, music, etc.
A-Z – Shows all shows in alphabetical order.
The TV list is something I feel shows the true power of this application. It portrays the flexibility of programs that are available by language and regional requirements. Also, if I am trying to find something to watch, I really enjoy the ability to look at different categories.
Search
The search ability is basic. You can search for items such as news affiliates or type of music videos. I would like theChanner to have advance searching available in the future. For example, include search by rating or searching narrowed down to specific categories.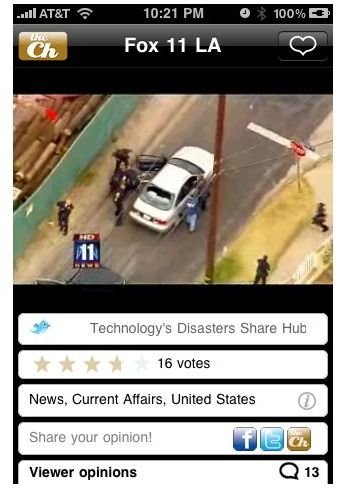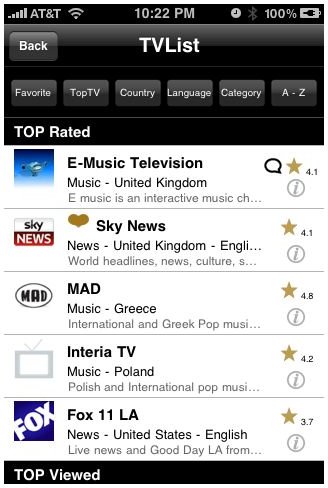 Social Features of theChanner
The iPhone TV app, theChanner includes excellent integration of social features. I like how I can post what I am watching on my wall or give a tweet. The tagging feature is one of the best features I have found. The tags work by showing different kind of tags that are available. What goes beyond that, is that the tags are different sizes, sorted by popularity. I saw that News and Entertainment had bigger text sizes (more popular ones.) while the 70's had smaller text. The voting system is a nice addition to TheChanner. It features voting based off of 5 stars and voting comments. Something that I would like to see added is the ability to flag a comment if it is offensive or spam. I have not encountered that yet, but these negative comments are inevitable with social networking.
Experience of theChanner
The video quality with theChanner is fair. It is the type of quality that is apparent in any streaming applications for the iPhone. There is little buffering available. However, I am connected to Wi-Fi. I cannot test it over 3G because this application is only restricted to Wi-Fi. This may be due to Apple or AT&T restrictions. However, there are other video applications that have the ability to play over 3G. This may involve using a lower quality of video to meet the restrictions. I am also noticing this weird glitch at the time of testing. Videos can play in portrait view. However, when I go to first play a station, I have to rotate it to landscape and then back to portrait. If the application has the ability to play portrait, it should play when I first go to a station.
Something that I really liked when watching the news is that if it has a Twitter feed, the Twitter feed will play within the channel. I did notice a social networking element missing from theChanner. I do not see the ability to have a friend's list. With any social networking application that I see online, social networking has to incorporate friends and the ability to see what your friends are watching or liking. There is a great amount of content for all genres available.
Conclusion (3 out of 5)
theChanner incorporates a large quantity of media. It is a great way to catch up on the news or watch a quick movie from the palm of my hand. However, I feel it's not quite up to scratch in terms of its social networking component. Friends lists are not available. Also with any kind of streaming media, there can be hiccups in video and audio quality. However, at $1.99 it is a great price for accessing video on the internet. Once theChanner evolves into more of the social networking media, it will be a great way to combine watching TV with your friends. theChanner is currently available in the App Store