Review of the TomTom iPhone App
(5 out of 5)
Once you install and start up the TomTom iPhone app, the first thing that greets you on your screen is a map stating that a poor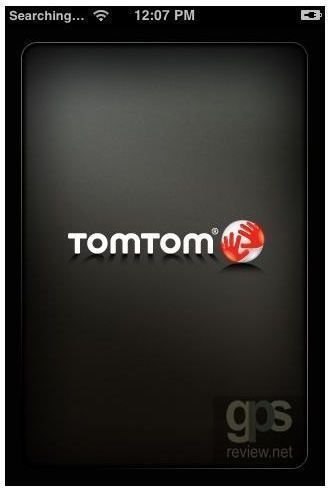 GPS reception is available but this is not something to worry about as it tends to evaporate in a few seconds. Once you have obtained a solid GPS signal you are all set to travel anywhere. This exquisite and astounding application will relay lots of useful information to you, such as what your speed is, how far away your next turn is, the direction of your next turn and the time that you will be reaching your destination.
Browsing through this application is not a difficult task. To go through the menu all that is required from you is a touch on the map anywhere on the screen. And if you want to listen to your previous directions to make sure you followed them accurately, just touch the information bar present at the bottom of the screen. The instructions will be repeated to you.
Another great feature of the TomTom app is the soothing voice of the GPS navigator, it is not distracting and you won't have to stop every 5 km to check your map. Once you have located the menu and want to punch in your next destination, simply touch the "navigate to" icon and a list will be unfolded in front of you so you can enter in your desired destination.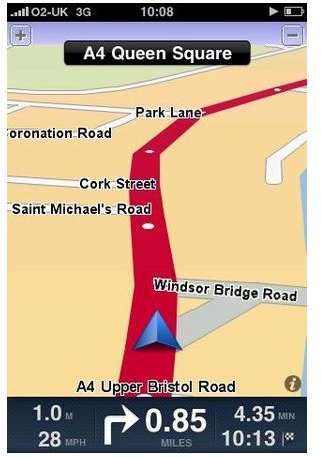 One thing that surprised me about the app is that it is a little slow when selecting addresses initially and caused my iPhone to hang up a couple of times.
TomTom for iPhone has numerous points of interest (POI), voice prompted directions and routing options. Most importantly it will get you to your desired destination. TomTom claims that they have superior directions as they use an improved technology called IQ routes. This means that while calculating routes, the TomTom iPhone app takes into account historic data about routes like day of the week, average speed of travel, etc.
There has been a problem with sound levels when using other navigation applications but not with TomTom. The voice instructions volume can easily be adjusted as well as muted.
Taking a phone call in the middle of navigation quits the TomTom iPhone app. Though it does restart and resume where it was previously, automatically, this is not ideal. But it is probably a part of the protective single-tasking rules for iPhone applications.
TomTom lacks the lane assistance feature and I wonder why, as it is a very necessary feature. Navigon offers this feature so it's a mystery why TomTom didn't include it in their software?
Image Credits: www.gpsreview.net, www.techradar.com
Features (5 out of 5)
Text to speech- this unique function allows the application to speak aloud the directions turn by turn and moves you swiftly around lanes and exit points. With the Tom Tom App you will never miss a turn.
Incorporated with IQ routes technology that efficiently promotes saving time, fuel and money by accurately calculating the fastest route to your destination.
Providing an emergency menu which includes quick access to local emergency providers for example- police, car repair service and hospitals.
Availability of iPod player so you can enjoy your favorite playlist, all while you look for your desired destination.
View your map in your desired landscape or portrait orientation.
Re-calculation of your layout plan if you miss a turn.
The ability to choose your favorite accent whether it be a female or a male voice.
Price (4 out of 5)
The TomTom iPhone app is available at US $ 90. It is slightly more expensive than Mobile Navigator, which is priced at US $ 80. And it is over twice the price of Co-Pilot Live 8 software, which is available at US $ 40.
Final Words
Though it might sound a bit expensive, it is always better to purchase the TomTom car kit for iPhone, which is designed in a way to enhance the GPS reception, transform it into a hands free car kit and allow you to listen to your favorite music at the same time.
If you simply adore the functions and features of the TomTom application then wait no longer and have it installed on your iPhone immediately and make your journey accurate and worthwhile.