Nationwide Mobile iPhone App Review
Nationwide Mobile App for iPhone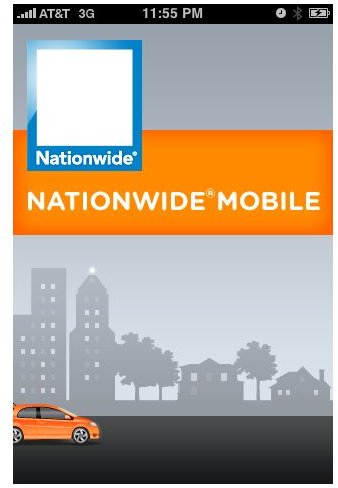 Nationwide Mobile is a free app designed exclusively for iPhone. Brought to you by Nationwide Insurance, this app features several tools for car accident management. The app makes recording accident information, calling a tow truck, starting an auto claim and finding a repair shop as simple as the touch of a button. Some features of Nationwide Mobile are open to all iPhone users, while others can only be accessed by Nationwide Insurance customers.
Overall Rating for Nationwide Mobile (4 out of 5)
Accidents can be stressful and unnerving. Nationwide Mobile is a helpful app that gives you resources for everything you'll need. With functions to record accident information, your auto insurance claims will be faster. Nationwide Mobile is especially helpful for customers of Nationwide Insurance, as it is a handy way to store your insurance information and claims history.
Nationwide Mobile features the following tools: Accident Tool Kit, Auto Claims, Find an Agent, Find a Participating Repair Shop, My Insurance Info and Flashlight. The application is a comprehensive kit to refer to after an auto accident. The app's only major downfall is that many features are only available to Nationwide Insurance customers. The app could be more universal if they opened some features up to all users. Overall, the app is helpful and worth the download.
Usability (4 out of 5)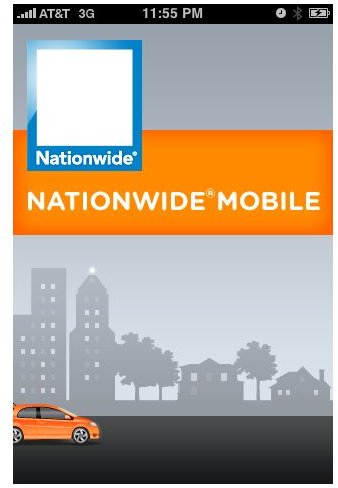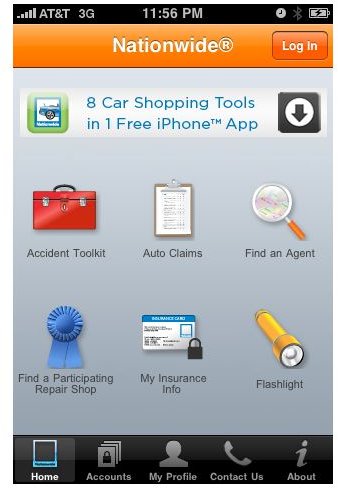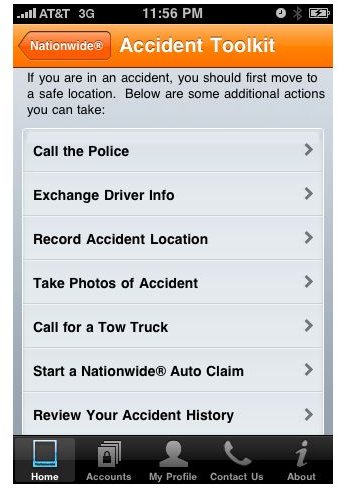 All components of this application are easy to use. Each major section (detailed in the Features section of this review on Page 2) is broken down into subsections that simplify steps for each task you need to complete using this app. I had no problems operating the application immediately after downloading it. Clearly labeled sections made navigation a breeze.
Price (5 out of 5)
Nationwide Mobile for iPhone is free. You can't get any better than that! For the $0 price tag, the app proves to be convenient and useful. While this application did receive a good overall rating, the price was a major factor in the rating. Had this application costed money, it would have only been worth it for Nationwide Insurance customers. For free, however, I found it to be helpful for all iPhone users. As with many free iPhone apps, you will have to deal with pesky ads on the main screen.
Accessibility (2 out of 5)
My biggest gripe about this app is limited availability for non-Nationwide Insurance customers. Limiting features is understandable, since their target user is their own customers. However, a few options within the app could have easily been extended to all users. An option to manually enter insurance information would not have been difficult and would make the app much more user-friendly for non-Nationwide customers.
Features (4 out of 5)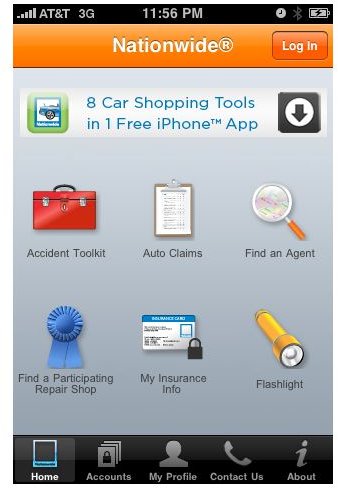 The Nationwide Mobile app for iPhone features: Accident Tool Kit, Auto Claims, Find an Agent, Find a Participating Repair Shop, My Insurance Info and Flashlight. Combined, they make a comprehensive app that can deal with auto accidents and claims. The features of this app are exceptional if you are a Nationwide Insurance customer, giving you convenient access to your auto insurance information and claims history. For non-Nationwide customers, however, some of the best features are unavailable.
Accident Tool Kit - Just as the name implies, this is a kit to use at the scene of an accident. It has options to Call the Police, Exchange Driver Information, Record Accident Location (with GPS current location or manual option), Take Photos of Accident, Call for a Tow Truck, Start a Nationwide Auto Claim and Review Your Accident History. The accident tool kit is useful and convenient. Having been in an accident before, it would have been helpful to have a tool like this to help me get all the information I needed.
Auto Claims - Only available to customers of Nationwide Insurance, this tool stores your auto claims history.
Find an Agent - Finds a Nationwide Insurance Agent near you. The tool allows you to search using your current location or by an address, zip code or name.
Find a Participating Repair Shop - Allows you to locate a Nationwide Blue Ribbon Repair Service Facility. These repair shops are Nationwide's preferred collision repair facilities that offer lifetime guarantee on all covered repairs. The tool allows you to search using your current location, by address or by zip code. You do not have to be a Nationwide Insurance customer to use this tool. It is a convenient way to search for a collision repair shop after an accident.
My Insurance Info - Only available to customers of Nationwide Insurance, this tool stores all your insurance information right on your phone. You must log in to your Nationwide Insurance account to access this feature. My Insurance Info would have been more helpful to a non-Nationwide customer if you could enter your own insurance information to be stored.
Flashlight - Turns your screen into a flashlight by displaying a bright white screen. This tool was probably included to be helpful for night time auto accidents. The flashlight feature does not offer much light in a dark room, I found it to be useless.
Should You Download Nationwide Mobile?
The app is free, so it won't hurt to download it to see what you think of the app. If you see yourself using your iPhone at the site of accident to jot down information, take pictures and exchange information with the other drivers involved, I recommend this app for you. If you would use it, Nationwide Mobile will help keep you on track and make sure you don't miss any important information. If you're more of a paper-and-pen type, you wouldn't find this app useful at all.