Review of Zynga's Street Racing for the iPhone
Zynga and the RPG Empire
Zynga's model for text based iPhone MMO RPGs has not changed much over the years. Zynga was best known until recently through its games that they tie into social networking sites like MySpace Facebook. Mafia Wars was ported from its online version to the iPhone with the free iPhone game Mafia Wars, and it stood above most of the competition. Mafia Wars did not stand out because of its sheer originality, especially since the theme had already been used by games like iMafia and iMob Online and the design was a person replicate of those as well. Instead it simply gave a nice set of visuals, a very user friendly interface, and an overall nice set up. It has taken Zynga a little while to get more titles to back up their design, especially when compared to the PlayMesh free iPhone game factory. Now we have Street Racing, which is Zynga's late answer to titles like Street Racers 3D and Race or Die. Just as history has repeated itself, Street Racing is by no means original but still will stand up as one of the best of its kind.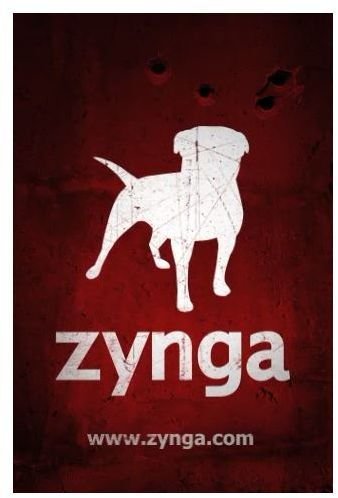 Starting Out
The Street Racing interface is so close to Race or Die that many people are going to check their iPhone to see if they just got a Race or Die update. All the basics of Street Racing are thrown at you right when you are signing in for the first time. You do Jobs to get money and experience. You use that money to invest in Properties, that will give you even more money. You race other players for the same reason you do Jobs, and you have to add other players with your Street Racing Player ID so that you can be proficient at all aspects. This may sound familiar, and it is. In reality it is exactly the base gameplay functions that you get with every other text based iPhone MMO RPG. Its use of a Street Racing Player ID model separates it from PlayMesh titles, but other than that it has all the conventional elements. Unfortunately it does not add the depth that games like Epic Solider Wars or those in the Storm8 garage do, but the design remains on top.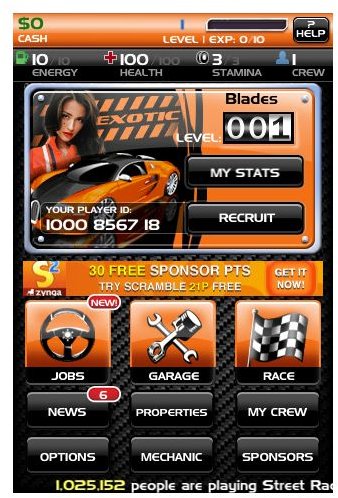 Street Racing Player ID
Street Racing puts the recruitment of other players to your crew front and center. Your Street Racing Player ID is going to be right on your front home page, as well as the Recruit button where you can go to enter other people's Street Racing Player IDs. Zynga also hopes to bring synergy between their other titles by allowing you to send invitations to your Street Racing crew to friends who play other games by Zynga. Like most of these games, Street Racing Player IDs will be your easiest way to add people, but you are going to have to start this quickly for there to really be any benefit to your account.
Street Racing Reward Points
You have to deal with Street Racing Reward Points, which are the cheat points that people can buy with real money, because they are also a central part of gameplay. You will start with more than thirty Street Racing Reward Points, and expect that more free packages of Street Racing Reward Points will be released regularly to keep players interested. Reward Points can be an annoying aspect of gameplay for those that do not want to pay for them, but when free ones are offered it does add a little excitement.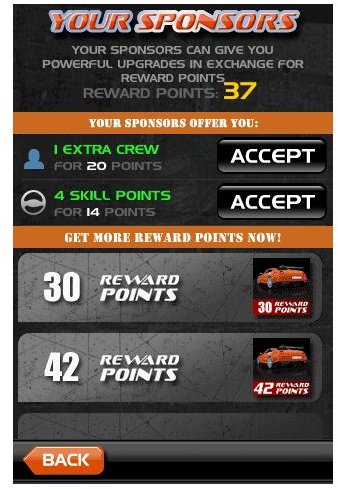 Getting to the Streets
What you get from Street Racing is straight forward gameplay on a trusted model. Everything remains clear and the social networking aspects are put into focus through a constant reference to Street Racing Player IDs and news feeds telling you about what is going on in the network. Try out Street Racing, but do not expect that it is going to revolutionize iPhone gaming in any way. Seven out of ten stars.