A Review of Epic Chef Wars on the iPhone
Living the New in iPhone RPGs
The text based iPhone MMO RPG genre has already hit all of its conventional bases and is now reaching out for themes that have not been covered. There are only so many ways that they can take the same mafia and racing themes, and now may be the first time in the history of this iPhone game genre will actually initiate competition in terms of originality. Epic Chef Wars takes the format set up by Epic Pet Wars and Epic Soldier Wars and takes it into another realm entirely. It takes most of the customizing features that people have come to expect with these games and takes them to new heights. At the same time the social networking aspects of Epic Chef Wars have been taken seriously and are being taken to new heights. This really marks Epic Chef Wars as a success among free iPhone games and pay ones alike.
Booting Up
The start up, and execution for that matter, in Epic Chef Wars is going to look familiar to anyone that has tried any text based iPhone MMO RPG. You start by selecting a chef type that will give you a specific edge, such as faster cash or energy replacement. Every aspect of conventional generic gameplay is added to in Epic Chef Wars right from the start. What the "Epic" series does right from the start is allow you Train options so that you can really focus in on your character and set them forward in the way that you see as beneficial. All the way through Train you will also have the possibility of getting Epic Chef Wars items dropped on you, which may give it a little benefit.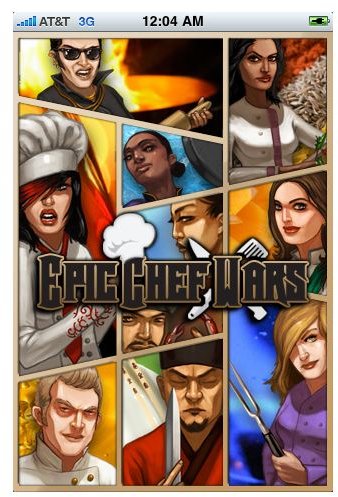 Item System
The item system has been different in all of the "Epic" titles, but Epic Chef Wars makes it even more apparent. Part of this comes from the great variety you have in possible Epic Chef Wars items, ranging from Recipes and Cookware. This is more than just taking the conventional items that are common to all games and renaming them. Here you will have to find your own unique way through Epic Chef Wars that requires selecting the correct character for your playing style and making your way through.
Epic Chef Wars Chef Codes
All the key elements of Epic Chef Wars remains common, so it will not take too much of a learning curve to figure out the overall play arc. You Train for experience and money, and purchase items and add kitchen crew members to win in Cook Offs with other Epic Chef Wars players. The Epic Chef Wars Chef Code is assigned to your character, and you share these Chef Codes so as to add other players. When you go into the Community Tab at the far right hand corner of the task bar you will find several options to add people, the most base and common of which is the Epic Chef Wars Chef Code. You can also utilize your Facebook friend list, Twitter feeds, and so on, but Epic Chef Wars Chef Codes are always going to be the easiest because you can share them online and get large numbers of them in easy swoops. Be indiscriminate with your Epic Chef Wars Chef Codes, especially when posting online. My Epic Chef Wars Chef Code is aubmnu, so add me freely.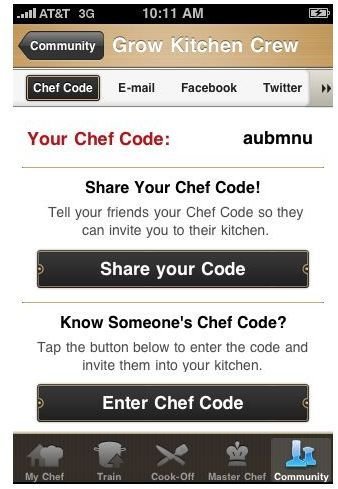 Epic Chef Wars Tips
The real way to get into Epic Chef Wars is to plan out some of your strategy ahead of time, and that is the best tip available for this free iPhone game. Feel free to level up a little bit in the early parts of the game, but only do enough Training as to get money for a start up Investment. Investments, which are located in the Market, are the main focus of your Epic Chef Wars account. You should be focusing all of your early funds here, and this is where you will make almost all of your money in later stages. Once you get a base Investment spend your time sharing your Epic Chef Wars Chef Code and try to let it accrue cash.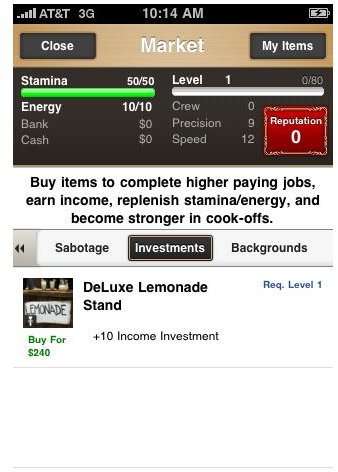 King of the Free iPhone Games
Epic Chef Wars is not really going to attract the non-converted, but for text based iPhone MMO RPG fans this is a great options that is opening up the future to more inventive themes. It is not wholly original in design, but it gives enough options to really warrant a close look. Among free iPhone games, Epic Chef Wars is going to more than stand out. Seven and a half out of ten stars.