HootSuite App Review: Review of HootSuite for the iPhone
HootSuite for iPhone - Features (4 out of 5)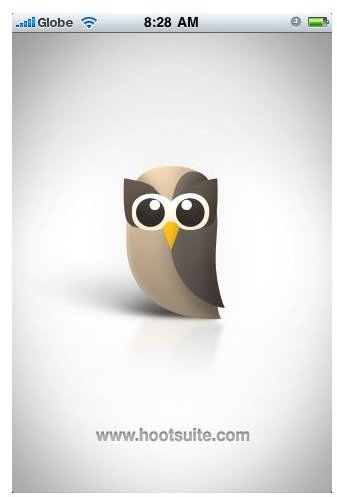 The Twitter iPhone app market may already be a bit saturated, but that doesn't mean that there's no more room for another app. If you're tired of using your current Twitter iPhone client, you might want to get this app as it offers several new features that other Twitter iPhone apps don't offer. The app's two main features are of course its facility for showing how many people have clicked the links on your tweets and post-scheduling tweets.
To check out the statistics feature of this app, you need to compose a tweet first and select the option "shrink links" before posting your tweet. The built-in Ow.ly URL shortener will convert your tweet into shortened format which it will then use to track the number of clicks that the link got after posting your tweets.
To schedule posting of tweets, the app has a calendar feature which you can use to specify the date and time when you want your tweets posted. This feature is perfect for greeting your Twitter followers on New Year's Eve while you enjoy the night's revelry. If you have multiple Twitter accounts, you can post the scheduled tweets on those accounts at the same time.
Aside from these two major features, this app also lets you customize its iPhone interface by specifying sortable columns and tabs. Another great feature of this app is the ability to switch columns by swiping them from left to right or vice versa. The app also lets you find interesting Twitter streams and allow you to save them as favorites.
For Twitter users who are fond of posting photos, the app also lets you do that without using TwitPic or other third-party Twitter photo app. You can upload photos from your iPhone's camera library or take photos and post it easily to your Twitter account. If you like monitoring Twitter's public timeline for popular trends, this app allows you to do that as well. Plus it gives you the explanations behind those trending topics.
Our Verdict (4 out of 5)
Like other first versions of other iPhone apps, this app still suffers minor bugs which I'm really hoping that the developer will be able to fix in future updates to the app. But at its current state, this iPhone app is robust enough and offers a great new way of enjoying Twitter on the iPhone.
If you're a heavy Twitter user and you don't mind spending $1.99 for an iPhone application, you'll surely like using this app. The statistics, tweet scheduling and customization features make this iPhone app a must-have.
Images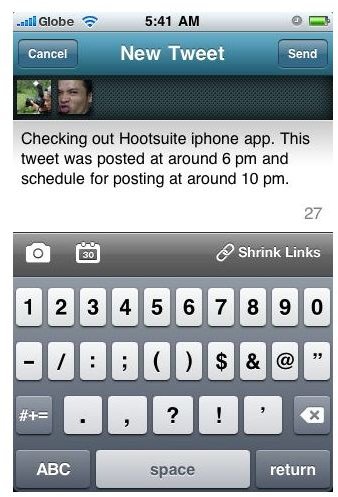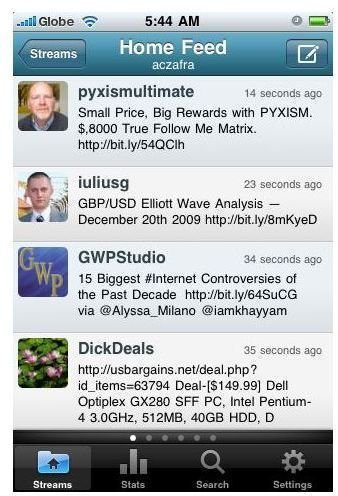 Image credit:
Screenshots of HootSuite by HootSuite Media, Inc.