iPhone App Review: eBay Mobile for iPhone
eBay Mobile for iPhone - Review Features (4 out of 5)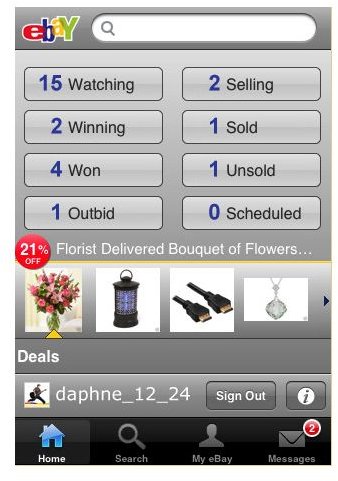 eBay has successfully ported their web service into the minuscule screen of the iPhone. The moment you fire up the app the main screen immediately displays the current Hot List Deals to help you find the best deals fast. From the home screen you can practically jump into a specific deal to enter your bid for the product. The app gives you four options located at the bottom part of the screen - Home, Search, my eBay and Messages. Search and my eBay are the two options that you will most likely use often.
The Search option gives you basic and advanced search facility. What's good about the search function is that you don't need an account to find the auctions that you will be most interested in. Although if you want to use the app to the fullest, an eBay account is, of course, necessary. To create an account you have to visit eBay's main website. The iPhone app doesn't have this feature yet.
Once you've created an eBay account you can start using the My eBay and Messages options. My eBay is where the product auctions that you are watching, buying and selling are compiled. It gives the full details of the auctions that you are monitoring. If you're an eBay seller, you can see which of your products are already sold, remain unsold and scheduled for sale.
The My Messages Option, on the other hand, is just like your usual IM facility where other eBay users can send messages to your eBay account. It also allows you to set alerts for auctions that you are currently monitoring.
Finally, eBay Mobile for iPhone also now supports iPhone 3.0 so you can opt to have push notifications enabled.
Our Verdict (4 out of 5)
Overall, eBay Mobile is a very useful iPhone application. If you're not yet into eBay shopping, you might want to try it out and use your iPhone to help you go around with the nitty-gritty of doing online commerce on eBay. While the app maybe as simple as it can get, if you're an eBay consumer, the amount of savings that you can get using eBay anytime, anywhere on your iPhone is definitely enough reason to get this app. If you're an eBay seller, I really don't see any reason not to have this app in your iPhone. The app will certainly help you with your eBay transactions.
eBay Mobile is a free app - which makes it even more of a must-have iPhone app.
Image credit:
Screenshots of eBay Mobile by eBay Inc.