iPhone App Review: Google Mobile for iPhone
Google Mobile for iPhone Features (4 out of 5)
What's so good about Google Mobile for iPhone is the way it presents the different services on the small screen of your iPhone. It practically mimics the same interface as when you're using those services on a regular web browser. Most, if not all of the features on those Google services are in their mobile counterpart.
The first time you fire up the app, you will be presented with the main screen - and guess what the main screen contains? What else but Google Search. What's interesting about Google mobile search is that it doesn't only allow you to search the web but your iPhone as well. So, you can search for contacts, telephone number, email address.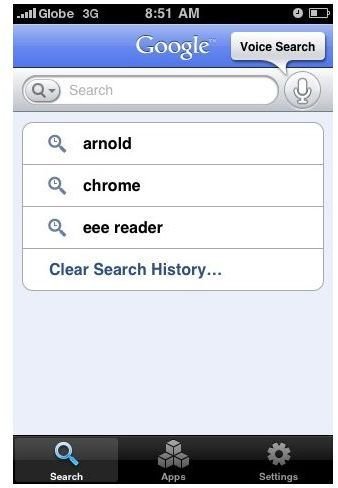 To search your iPhone you can select to include only your contacts, previous search you did or search suggestions. You can set this up at the "Settings" menu.
You can also set which of the menus you would like to be your default start screen - either Apps, Search or Search with Keyboard.
The app also lets you do voice search. However, according to the app's disclaimer, voice search only works in English and best for North American English accents. Although I tried using it and got a pretty accurate result. I don't know, maybe I have an American accent.
One last feature of Google Mobile Search is the safe search feature. It actually allows you to set the security features of the app. You can turn off this feature or put it in a moderate or strict level setting.
Other Features of Google Mobile for iPhone (3 out of 5)
Before you even think the Google Mobile is all about mobile search, wait till you tap on the "Apps" option. You'll be greeted by a plethora of Google mobile services waiting for you to use them. Choosing each of this apps will fire up your iPhone's Safari browser and will open up the web-optimized version of the sites.
The different apps included in Google Mobile for iPhone are - Gmail, Calendar, Docs, Talk, Tasks, Reader, News, Notebook, Photos, Translate, Maps and YouTube. You can delete any of these apps if you want to.
Our Verdict (3 out of 5)
If you're a die-hard Google fan and you can't live a single day without using any of those Google apps, this app will serve you well. It practically gives you access to those services anytime, anywhere.
It may not be the best productivity app available for the iPhone but it will certainly help you be more productive especially if using Google services is part of your work.
Google Mobile for iPhone is available free at the iTunes Apps Store.
Image credit (3 out of 5)
Screenshots of Google Mobile iPhone app by Google.