iPhone Apps Reviews: Dropbox iPhone App
Dropbox iPhone App - Features (5 out of 5)
The Dropbox cloud storage service lets you store photos, videos and documents and access them anytime, anywhere for as long as there is an Internet connection. The Dropbox iPhone extends this feature by letting you access your file using your iPhone. It works on either 3G or Wi-Fi connectivity, so you'll have access to your files anytime, anywhere.
The first time you fire up the Dropbox iPhone app, you will need to enter your Dropbox web account info. After signing up you will see all the files that you can access, assuming that you have already uploaded files to the Dropbox site from your Mac or PC.
The app gives you three menu options located at the bottom of your iPhone screen - Favorites, My Dropbox and Settings. Favorites contain files that you have marked for downloadingto view them later when your iPhone is offline. My Dropbox list down all the files that you have stored in the Dropbox cloud storage facility. Settings lets you link your iPhone to your Dropbox account and the email you use to register with Dropbox.com. You can also see the space left with your Dropbox account.
Incidentally, Dropbox offers a free account with 2GB storage. If you need more space, you will have to get the paid account. The Settings menu also gives you information about the app, link to a video about Dropbox, Video tour of the Dropbox features and the Dropbox app help site.
Another feature of Dropbox iPhone app is the camera button, which basically lets you take photos and immediately store them in your Dropbox account. This saves you some precious storage in your iPhone. You can also share your Dropbox files with your friends and other contacts. This will show up in the Public folder of your Dropbox account.
One great feature of the Dropbox iPhone app is that it recognizes immediately when you have modified a file. So if you have marked some files as Favorites, you will automatically get the latest version of the files the next time you access them offline.
Our Verdict (4 out of 5)
There are several iPhone app that offers the same service as Dropbox, but what makes this app stands out from the rest is its simple and straight forward interface. This contributes to a faster performance when accessing your files while your iPhone is connected online through 3G connectivity.
Dropbox is also one of the most robust iPhone file storage facilities and the fact that it supports various files makes it a must-have iPhone app. The app is available free at the iTunes Apps Store. Don't waste time, get it now.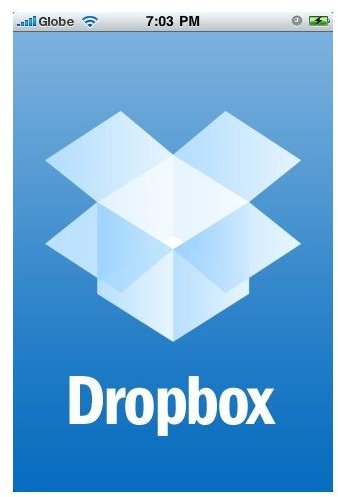 Image credit:
Screenshot of Dropbox by Dropbox.