iPhone App Review: Facebook 3.0 Review
Facebook 3.0 - New Features (5 out of 5)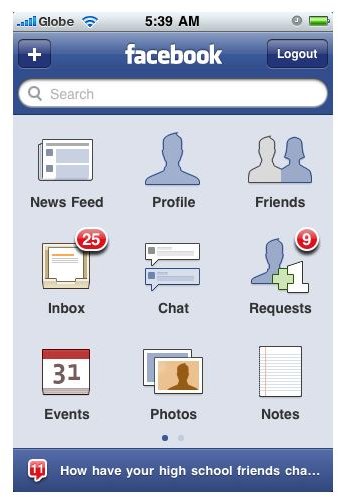 I'll get straight to the point and tell you right away what you should expect from the latest version of the Facebook iPhone app. First, the app now supports landscape mode. This means better and easier typing when you are composing updates or sending messages to your Facebook friends. Facebook 3.0 also now has a built-in browser. So, it will not fire up your iPhone's Safari browser anymore when you click on links.
What I really like about Facebook 3.0, which I think is what most iPhone Facebook users like as well, is the sleeker-looking main page that displays nine large icons representing the different Facebook menu options.
Briefly, here are the new features of each of these menu options:
News Feeds - this is what you used to see first in the previous version of Facebook for iPhone. Now, you can "like" and "comment" items. If you're an iPhone 3GS user, you can also take video and post it on the News Feeds option.
Profile - this section/option received some new elements too, including your profile picture and the "like" and "comment" facility.
Friends - this option was also updated and now lets you see both your Friends and Pages using tab options located on the lower portion of the page. If your friends have entered their phone numbers in their profiles, you can call them directly or send a text message from their Facebook profile pages. When you want to send them text messages, the iPhone will open up the SMS creation facility and lets you compose the text message right inside the Facebook app.
Inbox - this option now gives you updates from your groups and your sent messages in addition to the messages you received.
Chat and Requests - neither got updates; just some housekeeping done to make the page uncluttered.
Events - this could perhaps be the best new feature of Facebook 3.0. This option now lets you send RSVP to events you're attending as well as see details about those events. For those who keep on forgetting birthdays, you can now see who among your friends are going to celebrate their birthdays soon.
Photos - this option was given some new features as well, particularly on managing your photo albums. You can now easily tag photos as well as zoom-in and zoom out of photos using the iPhone's multi-touch feature.
Notes - This is one is a new addition to the features of the Facebook iPhone app. It lets you see, edit and create new notes.
In addition to these nine options, you'll also find the "notifications" directly at the bottom of the screen. This updates in real-time as activities happen on your Facebook account. The search bar is still on the main page located at the upper portion of the screen.
Our Verdict (5 out of 5)
Overall Facebook 3.0 for iPhone is a giant step towards making one of the best iPhone apps so far in terms of functionality, interface and performance. Facebook 3.0 shows us what the iPhone can do if apps developer will strive harder to develop killer iPhone apps such as Facebook 3.0. Facebook 3.0 should be in everyone's iPhone. If you're an active Facebook user, you should have installed Facebook 3.0 the moment it went out in the iTunes Apps Store. Facebook 3.0 is a worthy upgrade and a must-have iPhone app.
Image credit:
Screenshot of Facebook 3.0 by Facebook.