ESPN Scorecenter iPhone Application Review
It seems like every month there is a brand new sports tracker application for the iPhone. SportsTap and Sportacular were some of the veterans to get their sports applications in the applications store. ESPN has now made their debut with their application called ESPN Scorecenter.
Presentation (5 out of 5)
The first thing that caught my attention with the application was the fact that it uses pages to cycle through your favorite sports. You can select what sports you wish to follow, as well as your favorite teams. There then is a page created for that distinct league, whether it's Major League Baseball, the National Hockey League and any other sports league you prefer.
Each league is complete with every team's specific logo. The way the match-ups are arranged make it easy to see who is playing that day. Scrolling up will take you back a few days in the schedule which is nice. My only issue is that you can't go back to a specific date in time.
Another nice touch is the ESPN news ticker you have at the bottom of the application constantly scrolling. You can see all of the breaking news stories for that day. The whole design of this free application is smooth and easy to navigate through.
Images by ESPN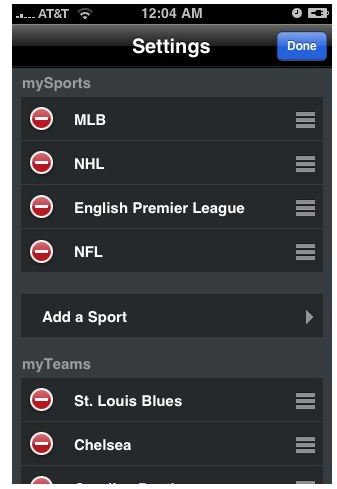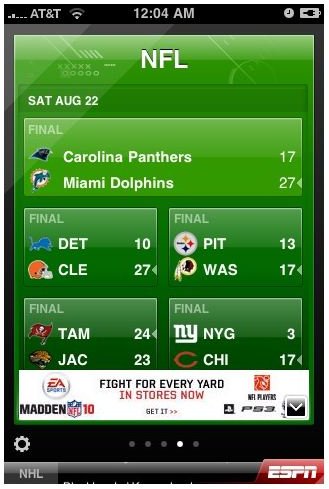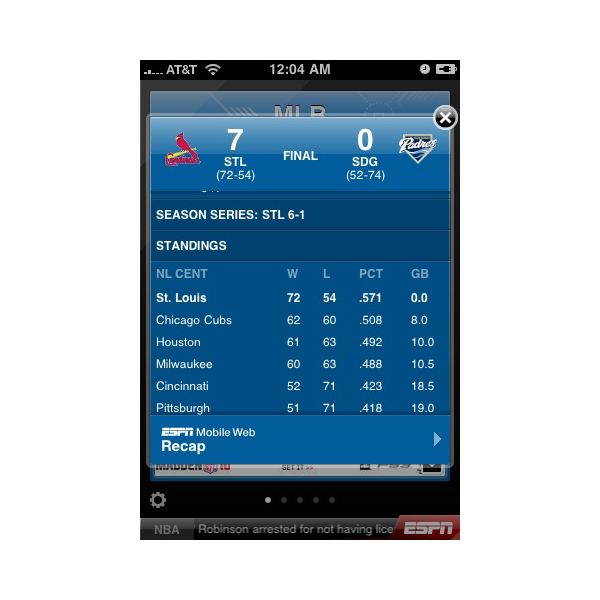 Stat Tracking (4 out of 5)
When it comes to stat tracking for ESPN Scorecenter, it doesn't do a whole lot outside of just scores. This is based solely on the application itself. There are links within the application that will take you to the ESPN mobile website, but the stats are not given to you without having to redirect to this site, which is kind of a bummer.
That's my only real gripe with the stat tracking portion of the application. If they had the box scores built into the application then it would be nice. It almost makes it seem like ESPN is missing out compared to other applications. On a positive note, it does give you standings below the score which is also a very important aspect in sports. When I go to check out the final score of the St. Louis Cardinals game, then I can see where the Chicago Cubs are in the standings. It's not much, but it is a nice touch to have.
Team Selection (5 out of 5)
The strongest part of ESPN Scorecenter is the amount of leagues it has. You have all of the main professional leagues in the application, but you also can check out college sports as well. ESPN did not forget about the sports outside of the United States either. Rugby and cricket scores are even included in ESPN Scorecenter.
With all of these teams included, you really won't be missing out on too much if a sporting event is happening. The ability to choose your favorite teams specifically from each sport is awesome too. Selecting your favorite teams will always make it their scores appear first in that sport's specific schedule.
Final Verdict (4 out of 5)
ESPN Scorecenter is not just a push off for an iPhone application. It really does give you quality scores from a variety of leagues around the sports world. Though it lacks in depth stats built into the application, it does give you the main scores. The fact that it is free is great coming from the "worldwide leader in sports." It is a solid pickup for any iPhone owner who is dedicated to following all of their favorite teams. ESPN Scorecenter can be downloaded free from the iTunes application store.