iPhone App Review: MobileMe iDisk iPhone App Review
MobileMe iDisk iPhone App (3 out of 5)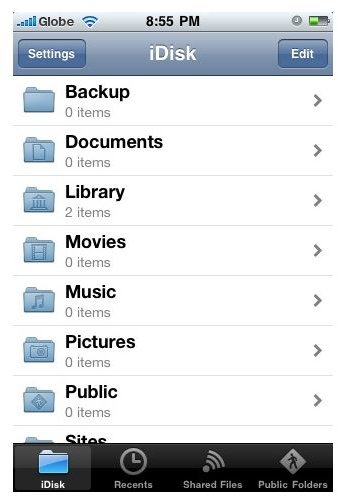 MobileMe iDisk was released around the time I just got my MacBook Pro. Since I didn't have a spare portable hard drive yet, I decided to get a MobileMe account to extend my Mac's storage capacity as well as to have access to my files even if I don't have my Mac with me. The problem with this setup is the fact that I needed to use a computer to access my MobileMe files. But, that was before MobileMe iDisk was made available at the iTunes Apps Store.
So, I immediately downloaded the application and installed it on my iPhone. Because the app is free I didn't have a second thought about getting it. Now, I can access my files "stored on the clouds" anywhere I go using my iPhone.
MobileMe iDisk iPhone App - Features (3 out of 5)
MobileMe iDisk's is a full-featured app that lets you do the following:
view files on your iDisk be it a document, spreadsheet, PDF, and other files
acces public folders
share files from your iPhone easily and quickly
access recently viewed files quickly
view and access all files supported by the iPhone including PDF, Quicktime, iWork, Office and other files
The best thing about MobileMe iDisk is the fact that it makes it easier for you to access files that you've recently viewed. You don't have to re-download the file once you have accessed it. The document-
sharing feature is also worth noting about this app. It lets you share your files via email containing its download link to which your recipient can click and download right from the email message. This means that you can send large files without worrying that your email will not get to your recipient. You can also opt to view the files from the MobileMe site first before downloading it to your computer.
Using MobileMe iDisk iPhone App
Before you download and install MobileMe iDisk, you need to have a MobileMe account. If you don't have one yet and is still hesitant to get it due to its price, you may want to download the 60-day trial version first to find out if its price is worth what you can do with the service. Although, I would have to say that having a MobileMe account is a must for every Mac owner, and now also for iPhone owners.
When you have the app on your iPhone, login using your MobileMe account and password. You'll see the list of files that you've downloaded. Tap on the file to view it and then tap on the share icon to send the file link via email. The app also lets you assign a password for securing the file as well as indicate the number of days that the file will remain downloadable from the MobileMe server.
Our Verdict (4 out of 5)
Being an official Apple app, there's no doubt that MobileMe iDisk is a reliable and dependable app. Since it is a free app, there's really no reason why you wouldn't want to have this app on your iPhone, especially if you are a MobileMe user. While there may be another third party iPhone app that lets you access files on a web cloud storage using your iPhone, MobileMe beats them for two reasons - it's a free app and it's from Apple.
Image credit
Screenshot of MobileMe iDisk by Apple, Inc.