iPhone App Review: Camera Bag
Camera Bag iPhone App - Features (4 out of 5)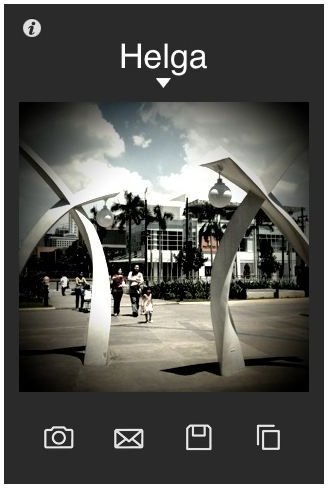 At first, I was hesitant to buy Camera Bag from the iTunes Apps Store because I was already disappointed with a similar camera enhancement app, which I purchased before. But, when I saw some sample photos processed using Camera Bag, I didn't waste no time and installed it on my iPhone. After several times of using the app, I was glad I installed it on my iPhone. I've never enjoyed taking photos using my iPhone until now.
Basically, what Camera Bag does is to let you enhance your iPhone photos by applying classic camera and film simulation effects. The best way to describe Camera Bag's features is by saying that the app gives you the feeling of having 10 cameras in one device - your iPhone.
Camera Bag gives you a taste of how photos look like in the old days. It lets you take photos and turn your output into various outputs produced by various cameras including Helga, Instant, Magazine, 1974, Lolo, Cinema, 1962, Mono, Infrared and Fisheye. If you are a photography enthusiast you'd know what those types of photos actually look like. If you are not familiar with it, just check out the sample shots below, taken using each of these camera effects.
Some of these camera effects actually make your iPhone shots more interesting than the original output. Each of these camera effects suit specific photo subjects and it's up to you to decide which effect to apply on your landscape, portrait, macro and other photo shots. I particularly like using Helga and Magazine photo output since it enhances the color of my iPhone's photo outputs.
Just like the default iPhone camera app, Camera Bag lets you send your photos to any contacts via email, or save it to your iPhone's camera roll.
Using Camera Bag iPhone app (3 out of 5)
Using Camera Bag is as easy as tapping the app's menus with one finger. Tap the camera button to fire up the camera and tap it again to take your shot. To apply the different camera effects, you simply swipe off the screen to the left or right. Or you can tap on the downward arrow to display all the available camera effects that you can use. To apply a particular camera effect, tap on the disk icon and the app will process your photo. You can then save the processed photo or send it via email. The app allows you to retain the original photo as well as apply and save the photo variations.
Our Verdict (5 out of 5)
Like I said, I've never enjoyed using my iPhone's camera until I got Camera Bag installed. It's amazing how this app enhances and beautifies the otherwise bland photo output of the default iPhone camera app. I'm actually wondering why Apple could not make the iPhone's default camera app as powerful as Camera Bag. Anyway, Camera Bag is a paid iPhone app available at the iTunes Apps Store for $1.99. Don't even start thinking that it's expensive because the price is definitely worth the app's many features. Hopefully, future updates of Camera Bag would include photo cropping as well.
Image credit
Screenshots of Camera Bag by Nevercenter.
Images