Textfree Unlimited - Texting for you iPod Touch?
Overview
Many iPhone users have been plagued by the steep prices of paying for data, along with the additional cost for unlimited texting. Luckily, there are applications in the iTunes store that can solve that problem in an affordable way. Textfree Unlimited is one of the more popular choices with its presence in the top 100 paid apps. This app allows you to send and also receive messages to anyone, and can potentially save you hundreds of dollars. Read more to see if this application really does what it says.
Images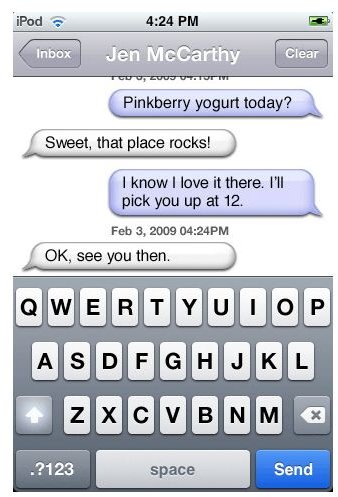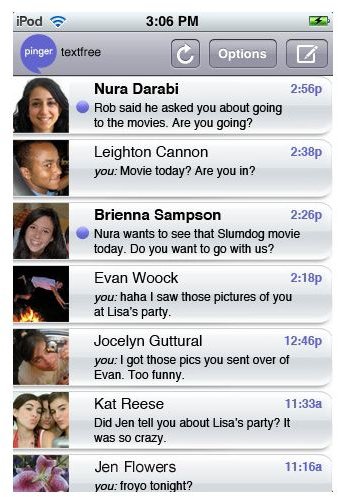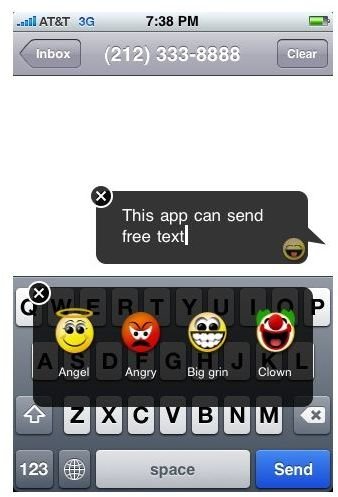 Design (5 out of 5)
This application features a slick design with simple buttons that are easy to understand. In the options menu, you can change your name, register your iPhone, or if you want to be notified with e-mail. Since the 3.0 software has come out, this isn't really needed but this is there for those who don't want to upgrade.
When trying to write a message to someone, you can either type in a number, or select someone from your contacts list. This comes in handy because you only have to add the information to your contacts application, instead of doing it all over again. After sending, you can see all your messages in the main menu, along with a picture of your contact to the left (if provided). The middle is taken up by the name along with a short portion of the text. This can be very handy when it is just a short message. To the right is the date of the last message sent which is handy when checking how long ago it was sent.To differentiate from new and old texts, a small button will appear next to the name to signify an unread message.
The design is simple enough and easy to understand, making it easy to text in portrait mode or landscape mode. This application also supports typing upside down as well due to the accelerometer.
Speed/Functionality (5 out of 5)
I did not find any major problems with the speed of loading and sending messages. The start up time is fairly quick, as well as viewing messages. When sending texts, it is usually sent within 2 seconds which is very fast compared to other phones. The only part where it can be a little laggy is when there are a lot of messages on the screen. This can be easily fixed by clearing the texts with the clear button in the top right corner. If there is some important information, then you will have to deal with it.
Sending texts is easy with the built in keyboard that can switch between letters and all the other keys. You can also add smileys and icons from their wide selection with a tap of your finger. I also had no difficulty closing out of text bubbles and windows. Also, you can view a whole conversation by scrolling with your finger along the screen. Texts are shown in colored text bubbles which makes it easy to see who sent the message.
A new feature that was added was the ability to receive texts. It can be difficult as you don't have a phone number, but Pinger allows you to do so with e-mails. When first starting up the application you can choose what e-mail you want to use, as this will be what will be used to receive texts. A simple message to all your friends can turn your iPod into a full featured texting device. When I used this, I received all the messages that were sent.
The 3.0 software really compliments this application. What this means is whenever you receive a text, you will be alerted with a little pop up making it very easy to check your messages. The application also includes a refresh button if you would like to be alerted that way.
Conclusion
Textfree Unlimited offers an amazing replacement to the SMS on the iPhone as well as adding texting to the iPod. Pinger hit a big market with this application and it does so rightfully with an amazingly sleek and fast design that wins over other texting applications. The app is sold for a fee of $5.99 (9/5/09) and it stays that way for those who purchased before 6/17/09. For those who purchased or will purchase this app, the description talks about a yearly fee which isn't said in detail. This might discourage some with the unknown fee, but I guarantee it will be well worth it compared to the iPhone's own texting system.