A Review of Live Happy for the iPhone: Tips, Quizzes & Suggestions on Boosting Happiness
iPhone app Live Happy aims to boost your happiness using the research of Dr. Sonja Lyubomirsky, author of The How of Happiness and psychology professor at University of California, Riverside. The research of Lyubomirsky and others shows that people who complete specific activities on a regular basis can grow happier.
This application is an ideal one for the iPhone as you can do the exercises whenever and wherever you want. The tasks don't take much of your time because they range from thanking a friend and writing in a gratitude journal to taking in a happy moment and doing random acts of kindness.
These activities may feel strange and uncomfortable when you start out. However, with practice they'll become easier. What helps the iPhone application stand out is that you have help and guidance plus the tools to put the activities to use. When you rely on a book, you may not feel as motivated to put the book's suggestions to work.
How to Use it
A good place to start is with the surveys. The application comes with the following surveys:
Find the Best Activities for You: See what activities best fit your needs in increasing your happiness.
Assess Your Happiness and Mood: Find out your current happiness state.
Discover Your Personality Strengths: Discover your key personality traits.
You can review the results anytime and re-take the test. Next, do the activities that best fit your needs. You can do any of the five activities:
Optimism: Encourages you to spend quiet time thinking about your future life goals and capturing those thoughts. These goals can be categorized by topics such as career, social life, health & fitness and leisure & hobbies.
Savor: Contains two parts: Happy Days and Savoring Album. In Happy Days, you recall a past memory you'd like to savor and replay it in your mind. Savoring Album uses the iPhone's camera to capture visual things so you can look at things with your eyes and savor those moments.
Social: Also contains two parts: Acts of Kindness and Nurture Relationships. The former captures your acts of kindness. The latter compels you to contact someone to improve your relationship. This works with the iPhone's contact list so you can call, email or text your contact.
Strive: Set goals and baby steps to support that goal.
Thank: Express Gratitude also works with your Contacts so you can thank someone through a phone call, email or text. Gratitude Journal encourages you to write down what you're grateful for today.
It also comes with a timeline to show you what you've done with the application and an ask feature to read questions and answers with Dr. Sonja Lyubomirsky.
Screen Shots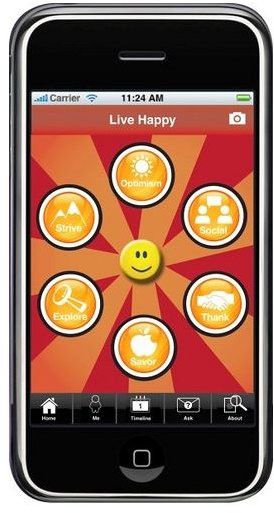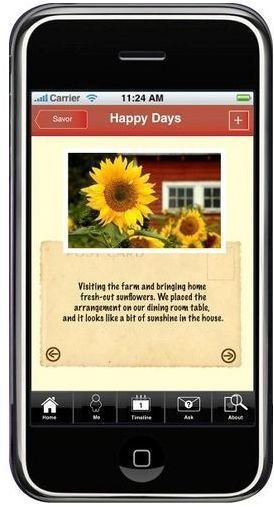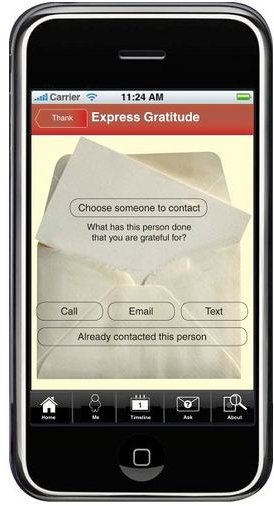 The Verdict (4 out of 5)
The well-rounded application, for the most part, is easy to figure out and use. However, Strive doesn't let you edit your entry even with "Edit" available. All edit allows you to do is delete the entry while other apps take you right to the content to modify it. You also can't reverse a task that you accidentally mark as completed.
Another feature, Explore, offers video and articles about the science of happiness as well as links to online resources. Anyone can access the online resources, but at least the rest of the application has rich features that make it worth the purchase if you like what you see. Live Happy plays nice with your iPhone's contacts, email and camera. Most of the time, you can return to Live Happy without going to the iPod's home screen, but not when you send an email. Signal Patterns is also responsible for the Personality iPhone app. This one contains more features and activities that will support you in your efforts to live your life to the fullest.
Live Happy is currently available for just 99 cents in the iTunes Store. This is an app I would highly recommend!
Images credit: All images are screenshots of Live Happy by Signal Patterns.