iPhone 3G S Review of Features and Affordability
Features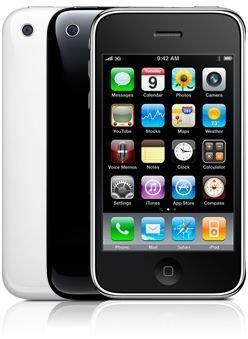 The new iPhone has essentially the same body, now available in all sizes in either black and white. So, what's new with the iPhone 3G S?
16BG ($199) or 32GB ($299) models (8GB iPhone 3G has dropped to an amazing $99)
A new 3MP camera with tap autofocus and video recording capabilities (replacing old 2MP camera)
Video editing features for video captures with camera - captures 640×480
A faster processor and probably more RAM will speed up applications 2-3X
Voice Control - voice recognition for placing calls or playing music
A built-in compass
Pre-loaded with the iPhone 3.0 software, which includes copy/cut/paste, a redesigned spotlight searching function, MMS picture messaging, and other new features
Slightly longer battery life
Apple earphones with remote and mic
Big New Features (4 out of 5)
The iPhone 3G S has many new features that iPhone users have been asking for since the first generation iPhone. For starters, the new camera leaves not much to be desired (except for maybe a built-in flash). The new 3MP camera has autofocus as well as video capabilities. My favorite feature of the new camera is the tap autofocus. Simply tap on the object that you want to focus on and the camera automatically adjusts the focus and exposure to make that part of the photo the clearest. When taking video clips, there is some basic post production editing that is available and easy to use. It's one of the most advanced cameras that I've seen on a cell phone.
Voice control is a much longed for feature that allows people to speak certain commands to the iPhone, such as "Call John Doe" or "What song is playing?" Apple has been on the forefront of voice recognition software for years. Have you ever called Apple? Their automated phone system recognizes and understands full sentences, so why shouldn't the iPhone? Imagine being able to tell the phone to play a certain album - that saves a lot of time in navigating menus.
MMS messaging, that is, the messaging of pictures and video via a cell network is now available on the iPhone. One problem though - AT&T is not supporting this feature until "later in the summer" as was announced during the 2009 WWDC.
Tethering is an exciting new feature that would allow iPhone users to connect their phones to their computers and use the cell network internet to browse the internet on their computers. AT&T, however, is not supporting this feature at the current time.
Compass - A compass is built into the iPhone for more accurate directions. We'll see what third party software developers do with this new feature. I'm expecting some interesting new apps. Great for hikers, walkers, and explorers.
Carrier Selection (1 out of 5)
Unfortunately, the new iPhone 3G S still only support the AT&T network in the United States. Apple's contract with AT&T doesn't expire until the end of the year. This is a problem for a few reasons:
3G network is strained
AT&T doesn't support tethering
AT&T has delayed support of MMS
Issues with iPhone contracts and upgrades
Affordability (5 out of 5)
The new iPhone 3G S is an excellent price at $199 for the 16GB model and $299 for the 32GB model (with two-year contract). Also, the iPhone 3G is now only $99 with a two-year contract. With all of the new features that users have been asking for, it is a better deal than ever. Apple reported selling over one million new iPhones in the first three days they went on sale.
With this new pricing structure on both iPhones, some are concerned that the AT&T network will not be able to handle all of the new data being transferred. This has yet to be seen. If AT&T does integrate MMS and tethering without raising the phone plan price, it will be one of the best smart phone deals around.
Conclusion
Overall, I think the iPhone 3G S is a great deal and the new features are well worth the money. It will be better once AT&T steps up to the plate or when Apple inevitably opens up its iPhone to other wireless carriers. Until then, this reviewer will still be using the iPhone.
Image Credit
Photo of Apple iPhone from www.apple.com.